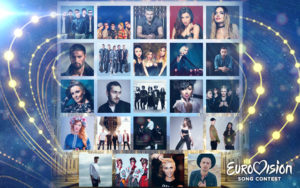 The first semi-final in Ukraine is growing nearer. There is quite a mixed bag this year, from power ballads, to rock, reggae and electric swing.  We introduce you here to the participants in the first heat making sure you know the acts in the running to represent the home country at the Eurovision Song Contest.
The line up of the first heat of the Ukrainian semi-final seems very strong. No two songs sound the same which should make for a really interesting heat. 8 acts are fighting for their place in the final. Just 2 of these acts will make it there. Who is your favourite?
SKAI are a Ukrainian rock band from Ternopil in West Ukraine. The band was founded in 2001 by Aleksandr Hryshchuk and Oleh Sobchuk (Front man) who studied together in college. For a short time the team became quite famous in his hometown and in Western Ukraine in general.
In 2006 they released their first album with Lavina Music Те, що треба (That's it).
In 2015 the band completed a charity tour of Canada and visited the cities of Toronto, Winnipeg, Vancouver and Saskatoon. All of the money raised from the concerts went into a charity fund for the victims of war in Eastern Ukraine. Last year they completed another tour of Canada and also visited America with their New Life Tour.
They will compete in the semi final with their song Я тебе люблю (I Love You) which is a soft rock love song. You can listen to the newly premiered song by viewing the audio video in the link above.
Song no 2: Roma Veremeychyk and LUMIERE – Make It Real
Roma Veremeychik participated in season two of The X-Factor Ukraine. He was eliminated from the competition in week 8. He is part of the group Lumiere which consists of members Roma (vocals), Tarik (sound) and Маx (drums). Make It Real the song that they hope will get them through to the final of the selection. On first listen to the song, it wouldn't sound out of place in a night club. Could it do well in Eurovision? You can make up your mind by listening to the song yourself, you can find it in the above link.
Song no 3: Monochromea – Blue Bird
Monochrome are an Indie-Rock band from Kyiv that have been performing since 2015. The band consists of singer-songwriter Nanè as well as Andriy Vdovichenko, Max Kondratenko and Oleg Pashkovkiy. They will be fighting for a place in the Ukrainian final with their entry Blue Bird. You can listen to the song below.
Laliko is formed by singer Laliko is participating in the Ukrainian National Selection with her song Sugar Whisper. Laliko describes this as her "Electro Swing Project" and the song is exactly how she describes it. With a lot of rock songs in this heat Sugar Whisper should make a refreshing change. You can use the link above to the listen to it.
Laliko lists her favourite singers as Eva Cassidy, Duffy and Touch & Go.
Song no 5: Сальто Назад (Salto Nazad) – O Mamo! 
Salto Nazad will be bringing their unique style of music to the National Selection. The group from Kyiv will be hoping to represent their home country of Ukraine with their song O, mamo! (Oh, Mum!). The song is the only one in the first heat that has not been made public.
Salto Nazad have been making music since 2011. In English, the groups name translates to 'Back Flip'. Over the years, the members of the group have changed but the lead singer (Vanek Klimenko) has always been the same.  Their style is considered a mixture of reggae, hip-hop, funk and electronic music.
In 2016, Salto Nazad became the first group to sign to the record label Rookadill'a. There aim: to try to give a new breath to Ukrainian music, a new character and a new energy to contribute to its development
Song no 6: MamaRika – We Are One
Anastasia Kochetov a.k.a MamaRika was born in Chervonohrad, West Ukraine. She graduated from the Faculty of Foreign Languages of Lviv University, specialising in English language. At the age of 19, Erika, who she was known as then, became a finalist vocal on Ukrainian talent show Star Factory. Where she was under the direction of composer and producer Konstantin Meladze (part of this year's expert jury). Her entry for this years selection We Are One is a nice laid back pop song which describes unity.
Song No 7: TAYANNA – I Love You
Tatyana Reshetnyak, known professionally as Tayanna is a singer-songwriter from Kyiv. Her entry I Love You, is a passionate power ballad. In fact, it is the only power ballad in the entire first heat, which could go in her favour.  I Love You is an evolved version of Autumn which was featured on her debut EP TAYANNA: Portraits. The new version was created in collaboration with Max Barskih, who did sound production, co-wrote the music and created the English lyrics to the song.
"I really hope that the song "I Love You" will awake an echo in women's hearts all over the world. This piece is my private story but it is also familiar to all of us. Don't let the melancholic memories let you down, whatever it takes! You have to move on, stay strong and bring love to the world!", – TAYANNA reveals on YouTube.
You can hear TAYANNA's entry for this year's competition by clicking on the above link.
Song No 8: Arsen Mirzoyan – Geraldine
Arsen has been in the Ukrainian music scene since 1998. He joined several bands with performed at various festivals throughout Ukraine.
In 2011 Arsen participated in Ukraine's version of The Voice. He finished in 4th place. Arsen will be performing Джеральдіна (Geraldine) in the semi final. This seems to be the only the second song in the entire heat that is sung in Ukrainian. His official VKontakte page describes him as " The steel voice of the country, impenetrable charisma, a talent given by God,  a hoarseness in the voice with a kindness in his eyes"
The first heat of the Semi Final will take place on Saturday 4th February 2017. Jamala, Andriy Danylko (Verka Serduchka) and Konstantin Meladze will be part of the expert Jury who will be helping Ukraine to decide who will go through to the final.