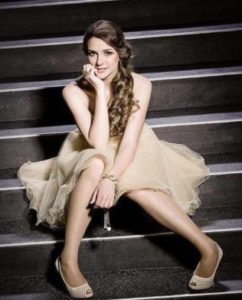 Jana Burčeska will represent The Former Yugoslav Republic of Macedonia in Kyiv next year. MRT, the national public broadcaster announced that tonight and as such decided to go for an internal choice once again for Eurovision Song Contest.
The announcement of Jana Burčeska came this evening from the local broadcaster. According to MRT the composer team for the FYR Macedonian 2017 entry will be chosen at a later time, but they expect it to be "a modern and attractive Eurovision song, which will represent the national culture and heritage of the FYR Macedonia in the best possible way". The broadcaster is still to decide when Jana Burčeska's song will be presented to the public.
From Pop Idol to Eurovision Song Contest
Jana is 23 years-old and she is studying law. For Jana music has always been just a hobby. She started her music career in the first and only season of Macedonian Idol, which was aired from November 2010 to May 2011. She made it to the final, where she finished fifth.
In 2011 she performed the theme song for UNICEF's campagne "Together for Schools Free of Violence". Jana participated several times at Skopje Fest, which is one of the main music festivals in the The Former Yugoslav Republic of Macedonia. On several occasions Skopje Fest was organised as the national final for Eurovision Song Contest.
FYR Macedonia in the Eurovision Song Contest
The Former Yugoslav Republic of Macedonia made its debut at the Eurovision Song Contest in 1998. Since the semi-final system was introduced in the contest in 2004 they managed to qualify for the final five times. The country's latest appearance in the final took place in 2012 in Baku, where Kaliopi performed the song Crno I Belo. They achieved its best result in Athens in 2006 as Elena Risteska finished 12th with the song Ninanajna.
Kaliopi represented FYR Macedonia for the second time this year in Stockholm, but she failed to qualify for the final. Below you can watch her performance of the song Dona: