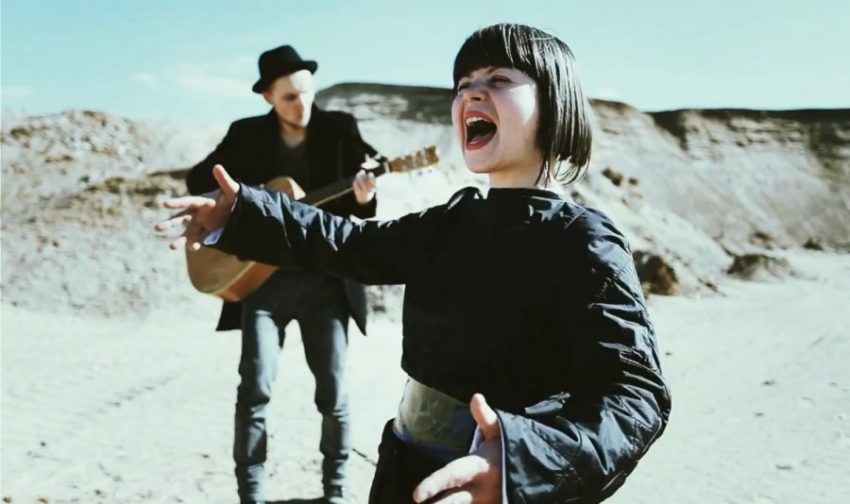 After ten exhausting but fun weeks, Lithuania have finally chosen who will represent them in the Eurovision Song Contest 2017.
Fusedmarc will carry the red, yellow and green flag in Kiev, in the second half of the second semi final on May 11th
The Songs
Paula  – Let U Go
Thirty minutes in, and time for the first song. Paula has been one of the public's favourites since she appeared in the first week. The tune is a modern dance song, bound to do well in clubs. Paula is by now, probably sick of hearing that she is sixteen years old. However it seems she is going to have a very successful career in show business. Showing no sign of any nerves, Paula dances on in her short black shorts, black boots and leather jacket. Vaidas Baumila is a big fan of the song. Paula has her four dancers, maybe she needs some light up drums to highlight the music. A very good show opener, surely must have a good chance.
Gabrielius Vagelis – Feel Myself Free 
Gabrielius's ballad is a strong favourite with the international jury. If this wins, it will add to a very heavy load of ballads this year. The singing is pitch perfect and the song adds backing vocalists at just the right time. However Gabrielius says he wants to feel himself free, but it sounds as if he's carrying an awful heavy load as he drags through the first verse. To feel freer, he needed to add some riffs like Dami Im did last year, and just like magic, that's exactly what he did. The song kicked itself to life in the last half. The staging is similar to Poland from last year. All in all though, a nice ballad, easy to listen to.
Greta Zazza – Like I Love You
A hot dance favourite right from the start, but Greta is just not quite getting the jury or public's maximum points. This song would be great for Eurovision, but should be a hit in many countries should it fail to qualify. Greta now lives in Sweden, where this song was, like last year's Lithuanian entry, obviously written. Greta is not quite as good a singer as Paula, whose song this can be compared to. However she has great stage presence. The crimson coat appears again, it would have been nice to see a different costume choice for the final. The dancers are also a bit of a distraction. However the good news is that this song is a total gem and Greta is the complete package. Stunning.
Fusedmarc – Rain of Revolution 
This song had become the juries cream of the crop in the last few weeks, while suggestions have also been made that the public is voting for it, since Lolita was dismissed. The song is upbeat and catchy enough, but is it really the right one for Lithuania to send. Does anyone know what the first line in the song is, as it's very hard to understand. This act needs more aggression, but tonight it seemed toned down a little. There was fire flying everywhere and the backing singers seemed to love singing along to it. Victorija just needs to harden the vocals up a bit. Hard to tell what will happen with it this week.
Aistė Pilvelytė – I'm Like a Wolf  
At one point it looked as if the wolf was a dead certainty to be the Lithuanain entry, but last week, Fusedmarc cast doubts. This Aminata co-penned song packs a punch and Aistė has only made minor changes to the performance, since her terrible first week. Aistė is an absolute stunner as a wolf. Her long flowing raven black hair allows for much swinging around. Surprisingly the negative here is there is not enough craziness. That can be fixed if Aistė wins tonight. As soon as the synthesizer starts you are sucked into this mad world. Aistė gets wilder and wilder as the song progresses. The video wall is awash with colour. Still not too sure about the body markings though, but look out anyone who stands in her way tonight. The audience, yet again, clapped too early.
Gytis Ivanauskas – Get Frighten
Gytis or Lolita Zero is back in the final due to a public wildcard vote last Monday. Six acts who came so close to the final were up for a televote, which unsurprisingly was won by Get Frighten. This song is one that you either love or hate, but is totally different from any other song chosen this year. So Lolita was carried on stage by her/his dancing men and the performance was quite subdued. The line Nothing's Obvious is very appropriate for this year's competition. Lolita mounted a mechanical bull, a prop not even Ukraine has used yet. The innocent watermelons were again smashed for no obvious reason, and the audience just seem to want more.
Kotryna Juodzevičiūtė – Love Shadow
Kotryna has stayed under the radar in all her performances, but has still made it to the final. The chorus is the real winner here, as the verse plods along, just not quite strong enough. However Kotryna is a power house of a vocalist, and the whole package is a visual treat. Kotryna started by walking through her backing vocalists, before taking front centre stage. The drum pounded in the back ground during the verses, disappearing for all the all singing choir in the chorus. Singing last may be a good thing, but it seems Kotryna, is battling against the trio of acts who sung before her. So two hours in that's it for this year.
The Show
The show started with the local choir singing the Lithuanian national anthem with the flag flying over the full stage. What a start. The president of the country then wished the artists well. Come on Teresa May, you do the same for the U.K. Gražvydas sang very well with the choir next, though not his entry Paint The Sky Blue. It's going to be a long night folks.
A laser light dance show followed and it is obvious the audience are getting their 3 Euros worth. The live show is coming from the 7000 seater, Švyturys Arena in Klaipėda, the third largest city in Lithuania. The city is located at the mouth of the Akmena-Danė River.
Fifteen minutes in and the Euorvision theme Te Deum, introduced last year's hero, Donny Montell. Surrounded by a motley bunch, Donny performed his latest single, Screw Me Up. Already everyone has forgotten there's a competition to come. Donny now treats us to a final reprise of last year's entry I've Been Waiting For This Night.
Finally, our hostesses, Gabrielė Martirosianaitė and Ieva Stasiulevičiūtė, arrive, visions in black dresses. Tonight the Lithuanian commission included  regulars Ramunas Zilnys, Dalia Ibelhauptaite and Darius Uzkuraitis as well as Donny and the rest of the population of Klaipėda, not in the regular audience.
Then treat of all treats, Ieva Zasimauskaite comes on to sing Johnny Blue, Germany's 1980 second placer, though she did not sing it as well as her own two songs, telling the judges, look mates this song came second, and mine are better. She out-did Lena's English accent.
Thirty minutes in, still no sign of Paula. Just before the songs start, our sexy voice announcer makes his first visual appearance in ten weeks, to tell the public what number to ring, to make sure Lithuania picks a winner. Videos introduce each act. The judges look like a live version of the painting of the Last Supper.
After Gabrielius, its off to the green room and quite frankly it looked liked acts from the circus. Nevertheless the show has now been on for an hour, and we await Greta appearing on stage. Let's hope she took a toilet break earlier with all that waiting. During the next back stage visit, a knowledge of Lithuanian was needed. Rosetta Stone has been ordered.
A commercial break followed that told us that Jamala is coming to Lithuania in April for a concert. Laurius Reiniks performed after the break with his classic Aš bėgu. After a boring interview with  ahead honcho, the female trio, Man-Go performed the song Svetimi, complete with human statue dancers.
Jamala sent a congratulatory video and some of this years entries were shown. Then Pussycat Doll, Chloe Maggs (really) sang Stick With U. The voting then closed but there were more treats to come as SunStroke Project came next to sing Moldova's entry Hey Mamma.
In the show that keeps on giving, the public votes were announced and then we got Lenara Ukraina with Cornobrivci.
The Results
| | | | | |
| --- | --- | --- | --- | --- |
| | Jury | Public | Total | Postion |
| Paula |  5 |  6 |  11 | 7 |
| Gabrielius Vagelis |  7 |  4 |  11 | 5 |
| Greta Zazza |  6 | 5 | 11 |  6 |
| Fusedmarc |  12 | 12 |  24 |  WINNER |
| Aistė Pilvelytė |  8 |  10 | 18 |  2 |
| Gytis Ivanauskas |  4 |  8 | 12 |  4 |
| Kotryna Juodzevičiūtė |  10 |  7 | 17 |  3 |
Lithuania At The Eurovision Song Contest
Surely Lithuania must be embarrassed, that after 17 entries, We Are The Winners is still their best placing. This novelty number by LT United placed 6th in 2006. All this, despite excellent entries from Sasha Son with Love in 2009 and Donny Montell with Love Is Blind in 2012 and I've Been Waiting For This Night in 2016 amongst others.
This year, the course of Lithuania's Eurovision history must change, and they end up in the top five. Check out our nine previous articles, to find out more about Lithuania's entries in the Eurovision Song Contest.
Thanks Ieva, Valdas, E.G.O., Valerija, Sasha, Queens Of  Roses and all the other acts who missed out this year. You have all proven that Lithuania has what it takes to win Eurovision. Maybe this will be the year.
Enjoy Lithuania's 2017 entry below.