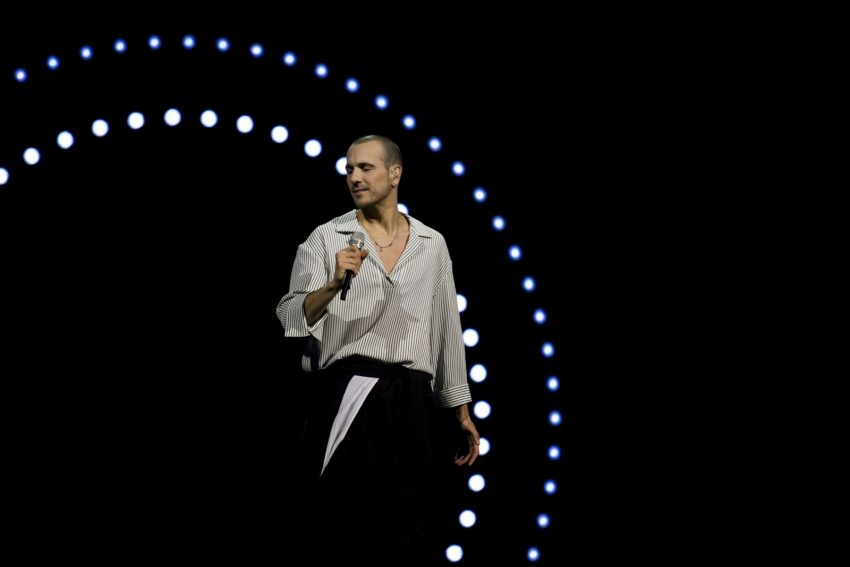 In Lithuania tonight, three acts made it to the final of the Lithuanian Eurovizijos Atranka 2018. The final will be held in Kaunas on March 11th, with many secret special guests to appear
For now, though, the Eurovizijos Atranka semi final one started with seven acts, including wildcard Greta Zazza, but by the end of the show, four acts were sent packing.
The Hosts
Ugnė Skonsmanaite was dressed in a golden evening dress with shimmering sequins. Manto Stonkaus was smart in a black suit, that only a first semi-final deserves.
Baltasis Kiras performed after all the public voting was finished. Surely the judges aren't waiting to see how that goes, before casting their vote.
We could have done without 120 performing Uptown Funk, but the silver foxed judge behind them seemed to be enjoying himself.
The Songs
Gabrielius Vagelis – The Distant
What a difference a costume makes. Still wearing the purple shirt, but a more appropriate one, Gabrielius is in great singing form. For the first time, you were able to concentrate on the song. It is a slow dramatic number allowing the backing singers plenty opportunity to join in. The judges were pleased.
GeraiGerai and Silvija Pankūnaitė – More Than You Know
Back with his coat of many items, GeraiGerai had competition this week when Silvija wore a costume even weirder than Monika, a couple of weeks back. Looking like a robot from the future, this is one of those urban city numbers. The pounding keyboards kept things moving along, and Silvija sang as if her Eurovision survival depended on it.
Kotryna Juodzevičiūtė – That Girl
Back trying to look street smart in her pink pantsuit, and her band of young whippersnappers came Kotryna with her song which just may be too cool for school. With a well-choreographed number, Kotryna held her own with the song. Looking good and ready for Lisbon.
The Roop – Yes, I Do
A big favourite with the public, this is a modern pop group singing an instantly catchy song. Still in the same pajama top, but a pair of bright red trousers, the lead singer gets on top of Ruta Loop's box to perform as only a lead singer can. A blue and white apron can also be spotted. The guitarist, keyboardist and drummer did well too. Can Lithuania risk another band this year?
Godo – Fire Fountain
Looking a little bit tired after her big concert the other night, Godo returned with this very original number. The performance and song are a breath of fresh air in the show, but may just be too left of centre for Eurovision. Having said that, Lithuania should make the final this year if they have the sense to send this.
Greta Zazza – Broken Shadows
Back for another turn after being eliminated last week, Greta needed to give her all tonight. With a dress that Godo wouldn't look out of place in, Greta stood and just sang the song perfectly. There is no doubt this is very Eurovision friendly with a killer chorus. It looks as if this isn't going to be the Lithuanian entry this year, which is a shame. Hopefully, Greta will go on to greater things.
Jurgis Brūzga – 4Love
Yet another entry with Eurovision potential. Lithuania is turning up the heat this year and this is only the first semi final. With comparisons to Sweden's entry last year, due to the dancing, the song stands on its own. A great performance. Let's see how the voting went.
The  Judges
Ramūnas Zilnys – judging this show has aged him way beyond his years
Tomas Sinickis – musician
Giedrė Kilčiauskienė – surely Surie, the U.K's entry's mother
Dalia Ibelhauptaitė – opera singer extraordinaire
The Results
| | | | | | |
| --- | --- | --- | --- | --- | --- |
| | Jury | Public | Total | | |
|  Gabrielius Vagelis | 4 |  4 | 8 | 7 | |
|  GeraiGerai and Silvija Pankūnaitė | 5 | 7 | 12 | 6 | |
|  Kotryna Juodzevičiūtė | 10 |  6 | 16 | 3 | Final |
|  The Roop | 7 | 12 | 19 | 2 | Final |
|  Godo | 8 | 5 | 13 | 5 | |
| Greta Zazza | 6 | 8 | 14 | 4 | |
| Jurgis Brūzga | 12 | 10 | 22 | 1 | Final |
Lithuania At The Eurovision Song Contest
With its long selection shows, you would think that Lithuania could spot a winning song. Sadly this has generally proven not to be true. Lithuania has only made the top ten twice, since her first entry in 1994.
The much-maligned We Are The Winners is still their highest performing song and they even use it still to introduce the Eurovizijos Atranka each week.
Ten weeks last year saw them choose Fusedmarc and Rain Of Revolution. For all their hard work, the song finished 17th in its semifinal, with Lithuania absent from the grand final, for the sixth time.