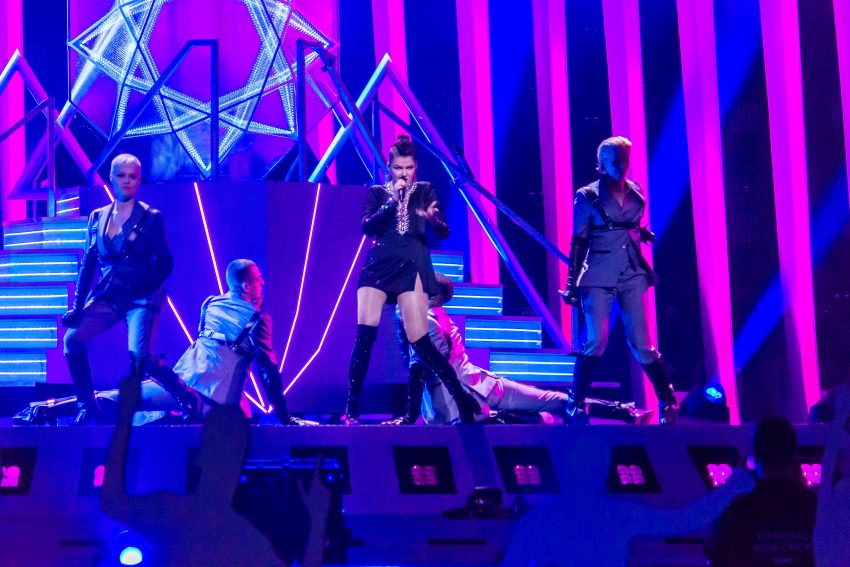 With an even stronger performance and a staircase to remember, Saara Aalto's Monsters now stands out clearer than it did in the National Final. It's been fine tuned and now looking like a monster of a contender.
Monsters
, which is written by Saara herself in collaboration with Joy Deb, Linnea Deb and Ki Fitzgerald.
Eurovision Village
Gallery
Second Rehearsal
Opinions expressed during our second rehearsal coverage are personal from the mentioned writers.
Michael, United Kingdom (from the press area) Saara's song is so modern and ready made for Eurovision so you'd think it was a certain qualifier. The stage show has been beefed up to include everything but the kitchen sink. Saara is hitting all the notes vocally. The dancing is fine, the turn around on the wheel perfect. How can this be left in the semi?
Pedro, Portugal ( from the arena) Finland has a very ambitious entry this year. Saara is an amazing vocalist and she proves it every time she walks on stage. Only live I noticed her stage prop is a spider (monster) and, for the audience, it may be boring to watch the first part as she is on the back part of the spider so we don't see her until the break of the chorus kicks in. Saara's performance is a real Pop show and delivers in so many levels: vocals, props, choreography and colours. Don't get me started on the fireworks at the end that will win anyone over!
First Rehearsal
Poor Saara Aalto, at the moment has every Eurovision fan's eye on every move she makes. So it is with high expectations that she took to the stage to begin rehearsals. Standing on a blue laser mountain, Saara gets a trick she used with Domino out of the way first, by getting spun upside down. That's how to re-use a gimmick. Two sets of lighted stairs are on either side of the mountain, for Saara to descend.
With all the singing she's been doing lately her voice is still in fine enough form. Maybe she just missed a few notes but nothing to be concerned about. She has two dancing men and two dancing ladies, in blue or grey, who we can assume are her Monsters.
The stage is again the light blue and lavender that a few of the acts are using this year. Saara performed with a confidence and an attitude that she is out to win this year for Finland. Not to mention a pair of knee length sparkly boots, in which she struts around the stage, with her dancers following behind her. At the end she jumps from her mountain in a stage dive moment and is caught by her stage monsters.
On the final rehearsal, perhaps with a nod to Finland's only winner by Lordi, fireworks explode on stage, to much cheering from the audience. Saara doesn't waste a moment of her time on stage.
How Saara Aalto was selected
Back in November 2017, Finnish broadcaster YLE presented a new format of their national selection UMK (Uuden Musiikin Kilpailu). One artists would sing three songs, and a combination of public voting and an international jury representing eight countries, would select which song will represent the country at Eurovision.
Saara Aalto who twice finished second at their national selection, and also ended up as runner up in X-Factor UK 2016, was the artist chosen by the broadcaster. Three songs were, ahead of the national final, released one by one: Monsters, Domino and Queens.
The national final took place on the 3rd of March, and with a score of 183 (159 for Domino in second place), Monsters was chosen as the Finnish entry for the 2018 Eurovision Song Contest.
Finland at the Eurovision Song Contest
It is quite mixed results, we have seen Finland get over the years. The country came last not less than 10 times, in three cases even scoring the dreaded nil points. Since the introduction of semi-finals in 2004, the country failed to reach the final seven times – in average every second year. In recent years though, the country weren't in the final in 2015, 2016 and 2017. Did Saara Aalto feel this pressure on her when she accepted the challenge of representing the country in 2018?
But all is not bad for Finland. In 2006, the rock band Lordi secured the country their very first win – and what a win. The iconic performance of Hard Rock Hallelujah will forever stand out in the Eurovision history books. Through the years, Finland have earned several 6th and 7th places as well, but their victory is the only time the country reached top 5.