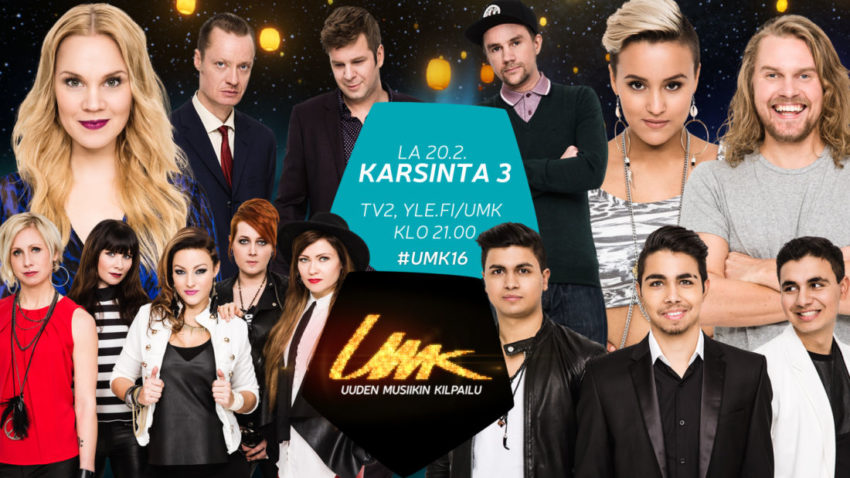 With the third and last semi-final held tonight in Finland, the line-up for the national final of Uuden Musiikin Kilpailu (UMK) is now complete. Nine acts are ready to battle it out next Saturday with only one of them winning the right to represent Finland at the Eurovision Song Contest in neighbouring Sweden in May.
In the grand final of Uuden Musiikin Kilpailu, the Finnish selection for Eurovision, a total of nine acts will fight for the victory and the honour of travelling to Stockholm, Sweden, with the Finnish voters backing up their attempt to bring back a great result for Finland.
In order to come as far as the final, the songs had first been selected by a special committee, and then been through a tough live preliminary heat with a 50% chance of being knocked out. Tonight the remaining three acts were chosen in heat number three and, as such, the line up for the final is now complete and looks like this:
Line-up for Uuden Musiikin Kilpailu 2016 final:
Saara Aalto – No Fear (From Heat 1)
Stella Christine – Ain't Got Time For Boys (From Heat 1)
Eini – Draamaa (From Heat 1)
Cristal Snow – Love Is Blind (From Heat 2)
Annican Milan & Kimmo Blom – Good Enough (From Heat 2)
Mikael Saari – On It Goes (From Heat 2)
Barbe-Q-Barbies – Let Me Out (From heat 3)
Tuuli Okkonen – Don't Wake Me Up (From Heat 3)
Sandhja – Sing It Away (From Heat 3)
On Saturday the 27th of February, these nine acts will fight in the final of Uuden Musiikin Kilpailu and then we will know which of them we will meet in Stockholm in May 2016.
While you wait for Finland to make up its mind, please take a look at our Finnish ighlights video. As it contains clips from various occasions, we feel confident that you will find something you haven't seen before. Enjoy.