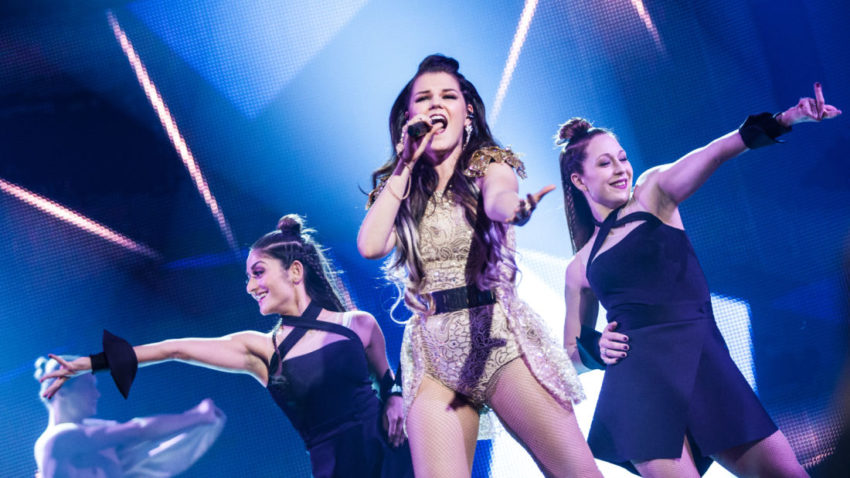 Tonight was the first semi-final of Uuden Musiikin Kilpailu 2016 (UMK) with six acts competing for the public's votes in order to qualify for the final, which will be held on February 27th. Who were the winners and losers of the first semi-final? And will one of these songs make it to Stockholm? Let's find out…
With an incredibly cheerful studio audience, it seems the Finnish are prepared to send their next Eurovision Song Contest representative with a bang this year. Here is a rundown of tonight's competing entries and the results.
The Songs
Saara Aalto – No Fear
A previous participant in the national selection of Finland, Saara Aalto is here to win it this time with her song No Fear kicking off UMK's first semi-final. A beautiful mid-tempo pop song with elements of dance and indian music, this is one that could do really well in the final.
Mikko Herranen – Evil Tone
A past contestant of The Voice of Finland, Mikko has been involved in different bands such as Velcra and RUST, released many albums and played over 2,000 gigs. What is even more impressive is that he is visually impaired. He brings Evil Tone, a pop-rock ballad with emotional lyrics. Unfortunately, this one isn't bringing any excitement to the competition, especially following the energetic Saara.
Stella Christine – Ain't Got Time For Boys
Singer-songwriter Stella Christine comes next with her song Ain't Got Time For Boys. This girl power-infused rhythm and blues track has the advantage of being performed last, which I think it needs with all the strong entries this year in UMK. I have to say that, considering what the song is about, the staging was working quite well with the two dancers in the background.
Eini – Draamaa
Eini is quite a veteran in the Finnish music scene with hits going back in the late 70's. The Finnish Queen of Disco is presenting us with Draamaa, a disco-pop schlager that is definitely something that I could see at Eurovision. However, is it strong enough for this year's tough competition?
ClemSO – Thief
Originally from Nigeria and moving to Finland to study, ClemSO has been making music for a long time, once as part of the band LOG2G1 Boys. With his song Thief, he brings influences of afro-beats and modern pop as well as some lines in the Yoruba language, which create a very interesting and original world music sound. His beautiful dancers definitely add to his unusual stage presence but, unfortunately, his vocals aren't much to write home about.
Pää-Äijät – Shamppanjataivas
Shamppanjataivas (Champagne Heaven) is the track performed by Pää-äijät, which is composed of Julmari and JaBa. All I can think of when I see this duo is – what if LMFAO were to start a biker gang, you'd end up with Pää-äijät! Praise must be given to a band able to start a performance in a hot tub and have them hanging from the ceiling at the end of it. Overall a total mess, but I can understand the strange appeal.
The Show
This is the fifth edition of Uuden Musiikin Kilpailu. Two more semi-finals, to come on Saturday February 13 and 20, will bring six more songs to the final for a total of nine competing entries. The four shows are hosted at the YLE studios in Helsinki by Finnish actor/rapper Rope Salminen and Krista Siegfrids who represented Finland at the 2013 Eurovision Song Contest in Malmö. This will be a busy year for Krista as she is also competing in the Swedish National Final next week, which means Rakel Liekki will take up the hosting job for her next week.
One funny thing about this semi-final is how they decided to cover the history of Finland in the Eurovision Song Contest, all the way from 1961 to the present day, but made it at an extremely fast pace, showing vintage clips from previous contestants mixed with other historical events from the same period.
Unlike some other national selections, the Finland representative will be voted for entirely by the public via televoting or online. The proceeds of the voting will be donated to the Nose Day Foundation, which funds projects for developing nations – you should therefore feel extra great about voting for your Finnish representative!
Results
| Artist | Song | Result |
| --- | --- | --- |
| Saara Aalto | No Fear | Qualified |
| Mikko Herranen | Evil Tone | Out |
| Stella Christine | Ain't Got Time for Boys | Qualified |
| Eini | Draamaa | Qualified |
| ClemSO | Thief | Out |
| Pää-Äijät | Shamppanjataivas | Out |
Finland in the Eurovision Song Contest
Since 1961, Finland has entered the contest 49 times, making it into the final 44 times. Their first and so far only victory was in 2006 with Lordi's Hard Rock Hallelujah. Since then, their 2014 entry Something Better by Softengine is their best ranking entry having achieved 11th place.
Check out below EuroVisionary's selected highlights of Finland for clips you may never have seen before!