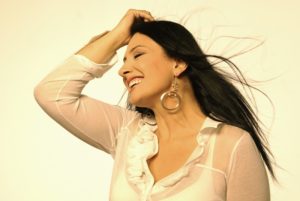 F.Y.R. Macedonia will be bringing out the big guns in Stockholm this May in the face of experienced singer Kaliopi. Having previously represented her counrty in 2012, the artist is no stranger to the Eurovision Song Contest. The country's public broadcaster MKRTV has now released more details about Kaliopi's 2016 entry.
MKRTV announced that the title of the song is Dona, that it will be sung in F.Y.R. Macedonia's native language and that it will be presented to the public during a special show, to be broadcast on its first channel on 7th March at 20:15 CET. Dona is a collaboration between Kaliopi herself and long standing collaborator Romeo Grill, Kalliopi having written the song's lyrics and Romeo Grill having written its music and created its musical production.
Kaliopi is one of the most popular singers in her native F.Y.R. Macedonia and had been internally selected for representing the country in its first attempt in Eurovision back in 1996 with Samo Ti. As it happened, F.Y.R. Macedonia failed to qualify from the (non-televised) pre-qualification round that year.
The talented singer appears to be somewhat of a safe choice for MKRTV nevertheless. When Kaliopi eventually went on to represent the county in Eurovision in 2012 with Crno I Bello, also a joint collaboration with Grill, she managed to qualify to the final where she was placed 13th, not only one of the country's best results so far but also the only time that F.Y.R. Macedonia has made it to the final in the last eight years. Having qualified to the final eight times to date, 2016 will mark the country's seventeenth effort in the Eurovision Song Contest.