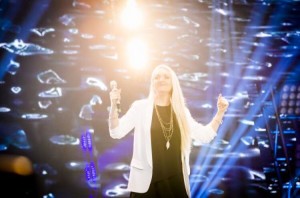 Lithuania's Eurovizijos song selection process continued tonight. The second show of 2016 featured eight acts who will potentially represent them in the Eurovision Song Contest to be held in Stockholm in May. Similar to week one, five acts proceeded onwards with three being eliminated. Who is continuing on with Alice, Erica, Donny, Petunija and Behind The Mask?
The second weeks show again featured acts who have already submitted a song to to Lithuanian state broadcaster LRT. In forthcoming weeks artists will be featured who had a song given to them. Last week Alice Way, Erica Jennings, Petunija, Behind The Mask and Donny Montell proceeded further and five new acts joined then tonight.
The songs
Jurgis Bruzga: Hold One
This was nice soulful ballad, with Jurgis accompanied by five backing singer/dancers, all dressed in anoraks as if they'd just been interrupted from a backpacking trail through the countryside. Very well sung with potential for an improvement overhaul. It needed a little more life to it.
Ugne Smile: You Don't Know
Ugne still sounds a little angry on this song kind of like on her last song Move On. Not quite fast enough to be punk, it sort of sounds like an early demo Avril Lavigne or Ace Wilder might have made. Only her youth and inexperience let her down but there was enough raw potential that Ugne could be back in future years.
Lawreigna: Falling
Now we know where the rejects from the movie Frozen go. Flaming red head Lawreigna's song started of a little like Let It Go and then jumps into a light weight dance track with Lawreigna thanking someone who rescued her from falling in a Tina Carroll sort of way. Three backing vocalists helped her through the song.
Istvan Kvik: Please Don't Cry
This was a straight forward romantic male female ballad similar to Romania's Tell Me, and they also stole a little from Azerbaijan having trapeze artists swinging around. The singing was faultless but was too slow to stand out.
Catrinah: Be Free
Another message type song sung to an electric drum machine, a nice enough chorus, backed by three female singers, which with a little rework could be quite memorable. For now the highlight was the fashion statement of the big plastic bag Catrinah was wearing – a cross between Linda from The Netherlands and inspired by Lithuania's own Vilija. Hair by The Flintstones.
Egle Jakstyte: Leisk Dar Buti
The first song tonight to be sung in Lithuanian. Another song that starts with a slow verse then bursts into an electronic dance track. This is how Gina G would sing if she could sing in Lithaunian. Black dress and boots with a statement was Egle's costume of choice.
Valdas Lacko: Stay Tonight
This piano led track bounces along as well as any other pop song, or another opinion could be it plods along but goes nowhere. The chorus steps up the pace  with the three backing vocalists who were reading along to the words giving a new meaning to amateurism.
Ruta Sciogolevaite: United
Now pardon me, but didn't Lithuania award Russia and Lady Gagarina with zero points last year – yet here's Ruta, with A Million Voice part 2, surely the national judges aren't going to like this – will they? Blonde Ruta stood and sang the ballad with five backing vocalists very well. The song wouldn't be out of place in the Stockholm finals. Polina will be proud.
The show
Andrius Rožickas and Gerūtai Griniūtei returned to LRT's studios to host, as they will each week. After introducing the judges, the scoreboard appeared with the numbers for the public to vote. The scoreboard was again shown constantly throughout the show. The hosts wasted no time in introducing the first song and short videos introduced all the artists before each of their performances. After each performance the national judges gave their constructive criticism to each artist, and the artists also were interviewed, where they thanked the judges for their advise.
After the final song and critiques it was straight into the reprise and then no time wasted in giving the results.
The results
An international jury consisting of Fool's Garden vocalist Peteris Freudenthaleris, English singer Syron from the band Rudimental, and jazz singer Karlas Friersonas gave its votes, combined and listed as 'I' below.
Prior to the broadcast, LRT published the national jury results. The jury was made up of a  four person panel, Darius Užkuraitis, Nomeda Kazlaus, Ramunas Zilnys and last year's Lithuanian representative, Vaidas Baumila. Their results are reflected in the "J" column.
Finally, the public's votes were translated to the 12-3 point scale – 'P' below. The top 5 acts will continue their journey.
| | | | | | | | |
| --- | --- | --- | --- | --- | --- | --- | --- |
| | I |  J |  P |  Total | Place | | |
| Jurgis Bruzga | 4 | 8 | 5 | 17 |  6 | |  OUT |
| Ugne Smile | 3 | 4 | 3 | 10 |  8 | |  OUT |
| Lawreigna | 5 | 5 | 4 | 14 |  7 | |  OUT |
| Istvan Kvik | 8 | 7 | 10 | 25 | 2 | | |
| Catrinah | 7 | 10 | 7 | 24 | 3 | | |
| Egle Jakstyte | 6 | 6 | 6 | 18 | 5 | | |
| Valdas Lacko | 10 | 3 | 8 | 21 | 4 | | |
| Ruta Sciogolevaite  | 12 | 12 | 12 | 36 | 1 | | |
Lithuania in the Eurovision Song Contest
This will be Lithuania's 17th appearance in the Eurovision Song Contest. They made their debut in 1994 with Ovidijus Vyšniauskas performing the song Lopšinė mylimai (Lullaby for my Beloved) receiving zero points and after missing out now and again in subsequent years, they have performed permanently since 2004.
LT United sang We Are The Winners that year, and very nearly were when they placed 6th.
Lithuania has drawn the first half in the contest, on two occasions. The last time was when Sasha Son performed the song Love in 2009. Sadly the flame in his hand  at the end burnt out with a disappointing 23 points and 23rd placing. It's a nice little song though worth enjoying again below.