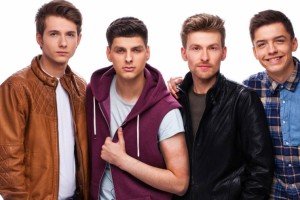 Lithuania's Eurovizijos song selection process continued tonight. The third show of 2016 featured twelve acts who will potentially represent them in the Eurovision Song Contest to be held in Stockholm in May. Ten acts qualified though to the next round. They will join the previous two weeks qualifiers who had already come prepared with a song for LRT.
The third weeks show featured the second division acts who had not already submitted a song to Lithuanian state broadcaster LRT.
The songs
Ieva Zasimauskaitė – Life
A beautiful little ballad to start the show. Leva in her white lace dress with her backing vocalists all dressed in black. A gentle country flavour to this song, all about life not being that beautiful, but you can't tell, because the song makes you feel good. Great opener. One to watch.
Baiba – Mayday
Stock Aitken Waterman Kylie (or maybe Dannii) sound alike. Another fun song for Lithuania, dancey, upbeat but maybe 10 years too late. Looks like the backing vocalists are going to appear for all songs. Audience clapping along. Good stuff.
Evelinos Jocytės – When It Sings
Evelyn Joyce for all you non natives, this is a morbid ballad that wouldn't be out of place in Les Miserables. Very well sung and Lithuania aren't scared to send songs like this to Eurovision. Susan Boyle grab this song. The male backing vocalist has disappeared.
E.G.O – Long Way From Home
Boy band heaven, which is seriously lacking so far this year. This wouldn't be out of place in Melodifestivalen, uplifting, chest pounding, nothing wrong with this at all. This weeks show is really good.
Berta Timinskaitė – Stars In A Rainbow
A Rihanna type of introduction and it continues on at a mid tempo. These backing vocalists are having a ball. This is trying to be a modern dance hit. Calvin Harris needs to get his mixer out for this one. There's an unexpected saxophone.
Deividas Žygas – Survivors
This song screams Eurovision so loud that they can hear it all the way in Iceland, but unfortunately Deividas's English is not the best, not to mention the vocals, so its a real shame, what a waste. Good attempt though with the red boots.
Neringa Šiaudikytė – Never Knew Love
An anguished ballad, which again would not be out of place in a musical. Nothing wrong with the singer or song in itself other than after it's over there's nothing to remember.
4 Roses – Butterfly
Can we say Femminem light. There's a joke in the group's name, as they only have three members. This is a big ballad with female harmonies and the backing vocalist are now taking turns. The ending is quite uplifting.
Saulenė Chlevickaitė – Strong
This song is in the lead by a mile on the score board for some reason. It's very low key following the previous songs. Great vocals, but leading song is quite the surprise. Perhaps it is a grower.
Milda Martinkėnaitė – If Tomorrow Never Comes
Nashville has come to Lithuania. Time for a ho-down. The song bounces along and Milda has her cowboy boots on. There's a violin break, this is the most jaunty song of the evening.
Ruslanas Kirilkinas – In My World
This is a real tear jerker, with a sad couple dancing around on a bench in the background. The singing is perfect.
Aistė Pilvelytė – You Bet
A screeching ballad to end this weeks show. Aistė is dressed in a blood red coat and black skirt and there's lots of high and long notes. A dramatic end to the evening.
The show
Lithuania are really putting on a professional set of selection shows this year. Andrius Rožickas and Gerūtai are charming hosts and would make excellent hosts for the actual Eurovision Song Contest itself.
After introducing the judges, the scoreboard appeared with the numbers for the public to vote. The scoreboard was again shown constantly throughout the show. The hosts wasted no time in introducing the first song and short videos introduced all the artists before each of their performances. After each performance the national judges gave their constructive criticism to each artist, and the artists also were interviewed, where they thanked the judges for their advise.
After the final song and critiques it was straight into the reprise and then no time wasted in giving the results.
The results
An international jury consisting of  Vanessa Lancaster, David Ingoldsby and Dave Holmes gave its votes, combined and listed as 'I' below.
The national jury was again made up of a four person panel, Ramūnas Zilnys, Darius Užkuraitis, Nomeda Kazlaus and Laima Lapkauskaitė. Their results are reflected in the "J" column.
Finally, the public's votes were translated to the 12-0 point scale – 'P' below. The top 10 acts will continue their journey.
| | | | | | | | |
| --- | --- | --- | --- | --- | --- | --- | --- |
| | I |  J |  P |  Total | Place | | |
|  Ieva Zasimauskaitė | 12 |  6 |  5 |  23 |  3 | | |
|  Baiba | 1 |  4 |  1 |  6 |  10 | | |
| Evelinos Jocytės |  0 |  4 |  0 |  4 |  11 |  OUT | |
|  E.G.O |  8 |  2 | 3 |  13 |  8 | | |
| Berta Timinskaitė |  6 |  5 |  6 |  17 |  5 | | |
|  Deividas Žygas |  0 |  0 | 0 |  0 |  12 |  OUT | |
|  Neringa Šiaudikytė |  3 |  8 |  2 |  13 |  8 | | |
|  4 Roses |  10 |  1 |  4 |  15 |  7 | | |
|  Saulenė Chlevickaitė |  6 |  3 |  7 |  16 |  6 | | |
|  Milda Martinkėnaitė |  3 |  7 |  8 |  18 |  4 | | |
|   Ruslanas Kirilkinas |  4 |  10 | 10 | 24 |  2 | | |
|  Aistė Pilvelytė |  7 |  12 |  12 |  31 |  1 | | |
Lithuania in the Eurovision Song Contest
This will be Lithuania's 17th appearance in the Eurovision Song Contest. They made their debut in 1994 with Ovidijus Vyšniauskas performing the song Lopšinė mylimai (Lullaby for my Beloved) receiving zero points and after missing out now and again in subsequent years, they have performed permanently since 2004.
LT United sang We Are The Winners that year, and very nearly were when they placed 6th.
Below you can watch a compilation of the last 5 years of LIthuania in the Eurovision Song Contest. We did our best to did our best to find our greatest footage, and maybe you'll see something you haven't seen before.