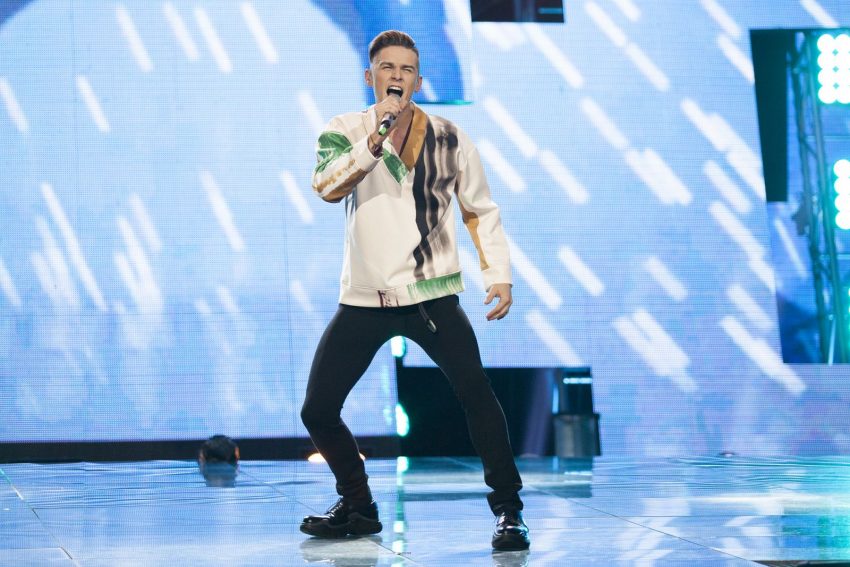 Tonight the pressure was on in Lithuania with eight performers taking to the stage and, for some, it would be the last time. The knives were out as the numbers were slashed mercilessly down to five competitors clamouring for the honour to represent Lithuania at the Eurovision Song Contest in Stockholm on May 10th, 12th and 14th.
Eight acts from division one performed tonight as the Lithuanian final draws ever closer. Sadly, for three, their dream of a Swedish trip ended tonight.
The Songs
Valdas Lacko – Stay Tonight
Valdas was complimented for paying attention to the judges' prior critique and, tonight, performed more alone although there were still two dancers so who knows what they thought they were looking at. This performance will supposedly make more people want to hear his work as it was charming and simple.
Catrinah – Be Free
Catrinah's weird choice of costume is drawing attention away from the song, which the judges described as impressive. Her vocals were praised but she was told to grab the audience's attention with the song right from the start. The staging needed work. Catrinah's nerves were also highlighted as an improvement point.
Istvano and Elados–  Please Do Not Cry
This was another performance where the background theatrics were criticized as drawing away from the singing. The vocals were described as clean – read that as bland.
Donny Montell –  I've Been Waiting For This Night
What do the judges want from this guy? They were indifferent again saying he wasn't using enough emotion in the singing. On the other hand, he was praised for his charisma. It was recognized as one of the challengers to represent Lithuania. Like yeah.
Eglė Jakštytė  –  Let Me Show You
Eglė, contrary to the other acts' critiques, was complimented on bringing in a dancer. No wonder everyone's confused. What do these people want? Apparently, the dancer took this performance to the next level. The judges said about this performance that their dreams had come true.
Erica Jennings – Leading Me Home
The judges claimed they were reaching adulation with this song. The song has been ringing in their heads and they can see the big Eurovision stage. It was described as the best performance in this heat.
Petunija –  Tomorrow
Hinting at an exit for Petunija, the judges declared how good the experience had been for her in the competition. Her lack of footwear drew some attention. The judges noted that they saw a lot of social media attention about Petunija and were glad it had gotten her some exposure. Watch the jury votes here.
Ruta Ščiogolevaitė  – United
The first hint that it's not a Donny and Ruta battle to the final came with the judges' indifference. Ruta was told they were certain she'd be placed in the top three and that, like Donny, they can see the conviction she has for the song. Ruta was congratulated on the good work she had done with this song and her performance.
The Show 
Not too much new to say about the show, so let's do the fast version.
Charming hosts came on. Judges introduced. Scoreboard flashed on screen. Video introduced each act. Act sang song. Judges critiqued. Reprise was held. Bloodbath ensued. Three acts went home. Lithuania heat described in two lines.
The Results
The national jury was again made up of a four person panel, Nomeda Kazlaus, Darius Uzkuraitis, Ramunas Zilnys and Valdas  Burnys. Their results are reflected in the 'J' column. Note to jury. It's week six now and you have heard the songs many times. Only one song can represent Lithuania. Every week, Donny and Ruta get twelve points – even they are complaining. Your job is to rate the songs and then give then a ranking. Otherwise, after all these weeks, no-one knows how a tie will decide who goes to Sweden. Next time, give one act 12 and the next act 10. Europe is watching you.
Finally, the public's votes were translated to the 12-3 point scale – see 'P' below. The top five acts will continue their journey.
| | | | | | |
| --- | --- | --- | --- | --- | --- |
| |  J |  P |  Total | Place | |
| Valdas Lacko |  5 | 8 | 13 | 4 | |
| Catrinah |  7 |  6 | 13 |  4 | |
| Istvano and Elados | 7 | 5 | 12 | 6 |  OUT |
| Donny Montell |  12 | 7 | 19 | 3 | |
| Eglė Jakštytė |  6 |  4 | 10 |  7 |  OUT |
| Erica Jennings |  10 |  10 |  20 | 2 | |
| Petunija | 6 |  3 | 9 |  8 |  OUT |
| Ruta Ščiogolevaitė |  12 |  12 |  24 |  1 | |
Lithuania in the Eurovision Song Contest:
This year will be the seventeenth time Lithuania has participated in the Eurovision Song Contest, which is only a little bit more than the number of weeks they are taking to choose this year's entry.
Did you know that Lithuania has used five languages in the contest? Ten songs were sung entirely in English. The highest placed of these was Donny Montell in 2012 with Love Is Blind which finished 14th.
Oh yeah – 'Well what other languages have they sang in' you say. Their very first entry – remember the nil pointer in 1994 – was sung in Lithuanian. Since then, none of their entries have been sung entirely in the native language, but SKAMP and You've Got Style featured some phrases in Lithuanian in 2001.
OK – two down – what else? Well, two entries, LT United with We Are The Winners in 2006 and Evelina Sasenko with C'est Ma Vie featured some parts of their songs in French. Similarly, in 2009, Sasha Son gave Russian a try at the end of his song Love.
Finally, Aiste in 1999 brought the only song so far to be sung in Samogitian, with her entry Strazdas. It finished in 20th place, which was better than Aivaras did in 2003, or, for example, Andrius Pojavis did in 2013, so if things don't go their way this year, perhaps they can dig out the Samogitian for us again in the future.
Meanwhile a video clip that's appeared more times than the scoreboard is attached below for your enjoyment. Have fun!
.