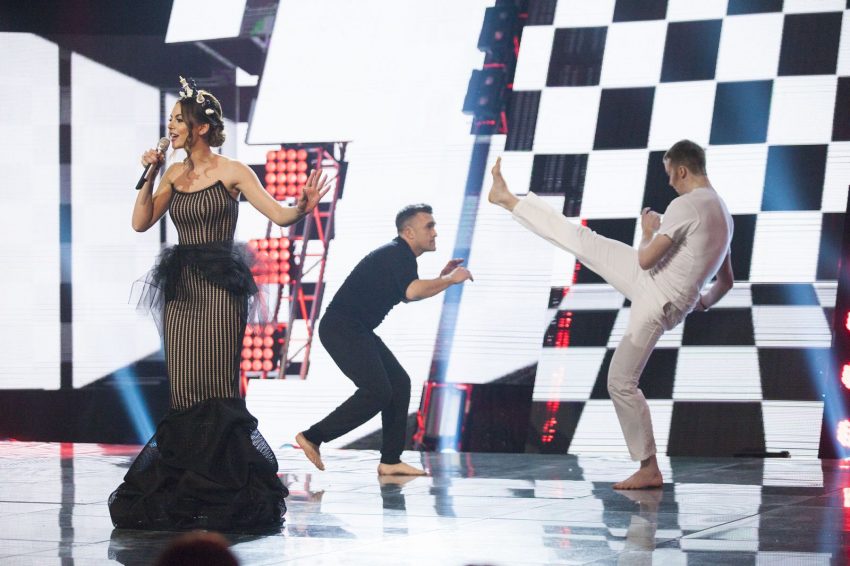 Tonight, it was back to the second division in Lithuania, and as the Spice Girls used to sing, eight becomes five, or something like that. After tonight's results, the lucky five join last week's winners trying to win the hearts of the Lithuanian panel, international experts and the fickle public, and represent Lithuania at the Eurovision Song Contest 2016 in Stockholm, Sweden.
The Lithuanian experience continued tonight as more acts were made to walk the plank into the sea, waving Eurovision glory goodbye for this year.
The Songs
E.G.O –  Long Way From Home
Tonight's opening number was Lithuania's answer to One Direction – Liamus, Harrius, Niallas and Louise – although this would be what One Direction sound like with two Niall's and two Loius. The judges did not like that each member seemed to be a pale copy of the other members. However this is a catchy little number and the backing vocalists were enjoying themselves.
4 Roses  – Butterfly
The girls are back still missing a rose, but despite being one withered flower short, the judges felt their performance was getting stronger. They were better, in one more week  they could be at Feminnem level. The singing was in tune and the song churns along. The backing singers get their chance to clap their hands in the air. Nice pop song.
Ieva Zasimauskaitė – Life (Not That Beautiful)
The judges got a little saucy here describing Ieva, as one of many sensual women in the contest, and warned her to watch her fake finger nails when a cat fight started between them – and Donny. This was described as Disney or if you prefer, the anguished song in a West End musical. Hopes of getting to Eurovision were high – rightly so.
Aistė Pilvelytė – You Bet
The judges love this one, giving it maximum points time and time again. The suitcase was dropped at the start, perhaps prematurely on it's way to Sweden. The judges chastised the fake tears and unnecessary tattoos on the arms. Aiste is no fool – she knows how to distract from the screaming noises she makes and at times very dodgy vocals.
Ruslanas Kirilkinas  –  In My World
This is the sad one with the old guy on the bench longing for his lost wife and then a couple of younger dancers come on and re-live his past. Think too hard about it and  it sure is a tear jerker, and ultimately could have a very wide appeal. The singing is also very good so this could be a bit of an under dog. Ruslanas walked on broken glass tonight too, to add to the heart break.
Milda Martinkėnaitė – If Tomorrow Never Comes
A case of very bad running order, where the audience were expected to come out of the emotional last performance and head on down to the saloon for peanuts on the floor. No-one had time to get changed into their cowboy boots and hat, so they just had to clap along and imagine getting in a circle for some Yee-Haw. Judges liked the humour and adventurous mood.
Neringa Šiaudikytė – Never Knew Love
Who noticed this one was still in the running? This is very Disney, but sung by yet another good singer. However, these hard to please judges did not like the lack of emotion. The dress did not escape either, being described as not very flowing. As compensation another judge praised the singers' elegance.
Saulenė Chlevickaitė –  Strong
Last song of an evening which just flew by and it's the stomping piano number. A chess board background allowed two backing dancers to give the performance a little bit extra. However one brash judge felt brave enough to let Saulenė know that she really doesn't have a very strong voice and was happy with the background distractions.
The Show
Brainstorm opened the show to give the contestants a feel on what they need to do, to place third in the Eurovision Song Contest. They also performed a number prior to the results. They gave an interview where they had to be impartial to the acts in Latvia.
Charming hosts Andrius Rožickas and Gerūtai Griniūtei are proving they have a good chemistry as they continue to work well each week with each other. Everyone involved in the show have become one big happy family and they are sorry so see the acts who have to go home, though secretly are relieved they will be back next week,
The Results
The national jury was again made up of a four person panel, Darius Uzkuraitis, music reviewer Ramunas Zilnys, opera soloist Nomeda Kazlaus and director Dalia Ibelhauptaite. Their results are reflected in the 'J' column. Clearly the national jury have been consistent when awarding points in this division.
The international jury consisted of William Wells, Denis Inglesby and Karl Frierson. Their results are in the 'I' column.
The combined jury scores were converted from 12-3 and then added to the public score.
Finally, the public's votes were translated to  the 12-3 point scale – see 'P' below. The top five acts will continue their journey.
| | | | | | | | | |
| --- | --- | --- | --- | --- | --- | --- | --- | --- |
| | I |  J | Combined Jury | Converted Jury |  P | Jury + Public | Place | |
| E.G.O |  4 | 4 | 8 | 5 |  3 | 8 | 8 |  OUT |
| 4 Roses |  3 | 5 | 8 | 5 |  7 | 12 | 6 |  OUT |
| Ieva Zasimauskaitė |  12 | 7 | 19 | 10 |  8 | 18 | 2 | |
| Aistė Pilvelytė |  10 | 12 | 22 | 12 | 12 | 24 | 1 | |
| Ruslanas Kirilkinas  |  7 | 10 | 17 | 8 | 10 | 18 | 3 | |
| Milda Martinkėnaitė |  5 | 5 | 10 | 6 |  6 | 12 | 5 | |
| Neringa Šiaudikytė |  6 | 8 | 14 | 7 |  4 | 11 | 7 |  OUT |
| Saulenė Chlevickaitė | 8 | 6 | 14 | 7 |  5 | 12 | 4 | |
Lithuania in the Eurovision Song Contest:
The first heat of Lithuania started on January 9. Let's have a throwback Saturday and re-live what we said about Lithuania in the Eurovision Song Contest back then.
Lithuania has appeared in the contest 16 times with 6 male soloists, 3 female, 5 groups and 2 duos. They made their debut in 1994 with Ovidijus Vyšniauskas performing the song Lopšinė mylimai (Lullaby for my Beloved). Sadly the song received the infamous zero points and Lithuania stayed away from the contest until 1999 when Aiste opened the Israeli hosted show with the song Strazdas (Song Thrush). Having been placed 20th, Lithuania then skipped the following year and returned in 2001 with SKAMP and You've Got Style, who gave the country their best result to date coming 13th. Aivaras with Happy You returned Lithuania to the lower placing of 23rd in 2002 and the country dropped out again the following year.
The country returned in 2004 and have been competing each year since then. In this period, they have only been placed in the Top 10 once, with We Are The Winners by LT United in 2004.
All of Lithuania's songs have been sung in English since 2001 but, unlike some other countries, this does not seem to be helping them reach the upper echelons of the scoreboard. Since the introduction of the semi finals, Lithuania has failed to qualify on 5 separate occasions, the last time being with the EMD influenced track Attention by Vilija.
Donny Montell, one of the favourites this year, gave Lithuania their best result in a semi final in 2012 when he was placed 3rd, finally reaching 14th place in the Baku Final with Love Is Blind. To date, this is Lithuania's 3rd best placing.
It's here – Europe's favourite recap video – showing all the best behind the scenes footage of Lithuania in the last few years.