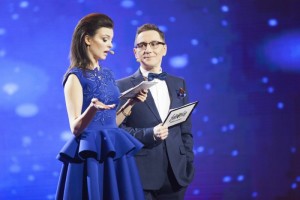 Lithuania's Eurovizija heated up the freezing winter to boiling point this week, as the first batch of returning performers gave it their best shot, to try to become the seventeenth representative for the Baltic Nation. Eight lucky contestants continued on to the next round, while for two it was time to pack their bags knowing like the rest of us they'd be watching from their TV screens next week.
Lithuania's Eurovision festival this year has been a real treat for the ears and eyes. With little fanfare, the competition has now entered week four, and the acts are really stepping up their game. This year's competition has been up there on a par with Sweden's Melodifestivalen. Tonight it was a sad farewell for another two contestants, but let's get the Lithuanian torte out the fridge and relive what happened tonight.
The Songs
Catrinah – Be Free
The competition  began with Catrinah described as an amazing singer. This performance surpassed the first and the jury liked the song's arrangement. The theatrical elements were praised. She was wearing a costume any housewife would wear while cleaning the house, if the housewife went for a soldiers metallic silvery armoury style costume. Still this is a good one, great applause and straight to the top of the score board. 
Erica Jennings – Leading Me Home
The judges think, that reaction to the song after only one hearing is good. It is described as a cozy, warm song, but maybe not a Eurovision song, but very beautiful. Erica does a Hozier and takes us to church with another great vocal but  just lacking the get your hands up in the air and shout Hallelujah. She was wearing an unnecessary lacey thing around the leather trousers. Wasn't enough to take her to top of score board.
Behind The Moon – Did It All
This time the performers brightened their outfits after earlier criticism. The success of this song depends on how different it is from the others. This song was described as theatrical yet incomplete and at times barely comprehensible to the viewer. It was a bit of a strange confection, like a bunch of rowdy kids hanging around making a noise at the mall, but the peppermint guitars were a nice feature. Audience applause muted, perhaps there was not enough time for them to remove their hands from over their ears, which they were no doubt covering incase they started to bleed.
Alice Way – Hero
Alice Way was described as Lana Del Rey, but was criticized for not making any changes from the last time – good or bad. The retro image did not correlate with the style of the song. This performance did not impress the judges and Alice sadly might be on her way. Alice has borrowed Teo's wife's red dress for the evening with a necklace that could stretch all the way to Stockholm, but stood pretty stagnant on the stage. Alice did not smile at the judge's appraisal.
Ruth Sciogolovaite – United
Ruth was lauded  for her expressions and body language and her even greater singing is always a celebration, because she is a true professional. This time the song sounded even stronger and even better. Ruth has changed from a white to a black costume and she means business. Her four backing singers were united with her and the standard drum break is in there. This year we have a million and one voices and the arms are in the air for the rousing final.
Valdas Lacko – Stay Tonight
Valdas was described as one of the surprises of this selection. He got through because of an excellent evaluation by foreign experts, in addition, he had been supported by the viewers. The song started out like Memory from Cats before picking up to a mid paced beat. No fancy costume or effects here, all black leather and white T-Shirt, all votes will be based on its ordinary-ness.
Petunija – Tomorrow
The  electronic song was not bad, but the vocals were quite weak, lacking feeling.  Electronic music has pluses and minuses – This had no climax and showed a lack of explosion said the jury. Two dancers pranced about in the background perhaps as a ploy to distract from the hollow vocals. The song is quite original though and suited Petunija's black mood. Petunija was dressed in a track suit more suitable for a morning jog. The judges did not take into account that maybe that jog had left Petunija out of breath perhaps explaining the weak vocals. 
Donny Montell  – I've Been Waiting For This Night
The appearance from last time was much better and more impressive than the past. However said another judge –  "Inevitably, I compare this performance with the 2012 song. It seems that everything has body language, it is plastic, voice sounds good, but lacks originality. This performance did not surpasses the previous performance from four years ago. The audience scorned him .The song is pure joy and could lead to Lithuania's best ever result – so there.
Eglė Jakštytė – Leisk dar būti
An old kind of song, was, this time sung in English. The judges assured that the language change came with benefits. This song is for the English language and consequently the vocals were much better. It was a Loreen inspired performance with Egle wearing an oversized blouse, as she must have lost her trousers prior to coming on stage – but another power house of a vocal performance.
Ištvanas Kviko and Ellada – Please Don't Cry
This was described as having the advantage of being tonight's Eurovision romance. The judges said that because of this they would be very surprised if this song is not getting into the next round. However, compared to last time, the singing still needed work. The performance was like something from Phantom of the Opera – the singers looked as if at any time the chandelier was going to drop from the ceiling and smash into them, To add to the tension two trapeze artists swung above them hoping that the rope wouldn't break. The costumes looked like chess boards.
The show
The hosts with the most, Andrius Rožickas and Gerūtai Griniūtei returned and were the usual delight. They introduced the judges who were the only down trodden part of the evening.
After introducing the judges, the familiar scoreboard appeared with the numbers for the public to vote. The scoreboard has become an old friend and was always a treat every time it appeared on screen. The hosts wasted no time in introducing the first song and short videos introduced all the artists before each of their performances. After each performance the national judges gave their constructive criticism to each artist, and the artists also were interviewed, where they smiled to the cameras and thanked the judges for their advise, while no doubt cursing them under their breath.
After the final song and critiques it was straight into the reprise and then no time wasted in giving the results.
The results
An international jury returned consisting of dear friends  Peter Freudenthaler, Syron and Karl  Frierson. They gave their votes and a brief opinion, realizing that they only have five more weekends before having to find something else to do on a Saturday evening. Their votes are  combined and listed as 'I' below.
The national jury was again made up of a four person panel, the opera singer Nomeda Kazlaus LRT Opus Darius Užkuraitis, "Lithuanian morning" music reviewer Ramunas Zilnys and music industry legend Kazimierz Šiaulys. Their inexplicably uneven results are reflected in the "J" column.
Finally, the public's votes were translated to the 12-3 point scale – 'P' below. The top 8 acts will continue their journey.
| | | | | | | | |
| --- | --- | --- | --- | --- | --- | --- | --- |
| | I |  J |  P |  Total | Place | | |
| Catrinah | 8 | 6 |  7 |  21 |  4 | | |
| Erica Jennings | 7 | 10 |  8 |  25 |  3 | | |
| Behind The Moon | 3 | 5 |  2 |  10 |  9 | OUT | |
| Alice Way |  2 | 4 |  1 |  7 |  10 | OUT | |
| Ruth Sciogolovaite | 10 | 12 |  12 |  34 |  1 | | |
| Valdas Lacko | 6 | 5 |  6 |  17 |  6 | | |
| Petunija | 6 | 5 |  3 |  14 |  8 | | |
| Donny Montell  |  12 | 12 |  10 |  34 |  1 | | |
| Eglė Jakštytė | 4 | 7 |  4 |  15 |  7 | | |
| Ištvanas Kviko and Ellada | 6 | 8 |  5 |  19 |  5 | | |
Lithuania in the Eurovision Song Contest
With nine shows and only sixteen prior appearances, can there be any one left who doesn't know that Lithuania made their debut in 1994 with Ovidijus Vyšniauskas performing the song Lopšinė mylimai (Lullaby for my Beloved) receiving zero points?
So this week let's take a look at how Lithuania has voted in their sixteen competitions and see how likely the Lithuanian public and experts will be at picking a winner for Lithuania this year.
Lithuania gave its first ever 12 points in 1994, to Poland who also made their debut that year. Edyta Gorniak with To Nie Ja, did much better than Ovidijus, placing second.
Lithuania opened the voting in 1999 by awarding 12 points to Ireland with The Mullan's When You Need Me. Not a good start. That was double the points all the other nations gave to Ireland in total that year. In 2001 and 2004 they spotted the winner from close neighbours Estonia and Ukraine. In 2005 and 2007 they voted for Latvia.
Dima Bilan's Russian entry of 2006 was favoured, which ended up placing second.
Lithuania was on a roll for the next there years giving top marks to eventual winners Russia, Norway and Germany.
In the subsequent years they turned their attention to Georgia twice, then went ironically for Azerbaijan in 2012 and 2013, after not spotting Running Scared as the winner in 2011.
Lithuania went for close thing The Netherlands in 2014 while leaving the audience gasping in 2015, when both Latvia and Russia had received no points by the time they gave Sweden 10 points. In the end they went for Latvia for the third time, earning them a big scolding from Russia's minister of culture.
So out of sixteen votes, Lithuania has picked the winner five times, but not in the last five years.
Below you can watch a compilation of the last 5 years of LIthuania in the Eurovision Song Contest. We did our best to  to find our greatest footage, and maybe you'll see something you haven't seen before.