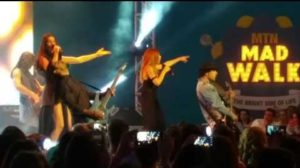 Music and fashion work well together. Evridiki, Ivi Adamou, Minus One and other Eurovision stars prove this if must-see Youtube videos from Cyprus' MTN Madwalk 2016 are anything to go by.
The MTN Madwalk event, not to be confused with last Tuesday's Greek MAD Video Music Awards, is in effect a fashion show with live music performances and guest appearances from celebrities that include successful pop stars and actors. Even though the event took place on 31st May, it was only aired on Cypriot TV a few days ago.
There were many treats in this year's show for Eurovision fans as it included both artists who have represented Cyprus in the Eurovision Song Contest as well as pop stars who have participated in past national finals.
The Eurovision star performances were as follows:
Danish-Greek singer Shaya (Greek national final 2015) was the first Eurovision star to take to the stage and perform her take on Cameo's Word Up, while creations from fashion house BLANC Studio were being shown to the audience – watch the video .
Paris-based fashion designer Erotokritos joined forces with Ivi Adamou (Cyprus 2012), who performed Survivor's Eye Of The Tiger – watch the video.
Eurovision diva Evridiki (Cyprus 1992, 1994 & 2007) and Thomai Apergi (Greek national final 2013 & 2015) appeared together, singing the former artist's 1990s hit Afto To Fili (This Kiss), for the part of the show dedicated to the creations of designer Stelios Koudounaris – watch the video.
Josephine (Greek national final 2014) performed with Konstantinos Frantzis their rendition of Love, Sex, Magic by Ciara feat. Justing Timberlake for the fashion offerings of Gregori Morfi – watch the video.
This year's Cypriot Eurovision representatives, Minus One, joined forces with Evridiki and Ivi Adamou to perform their entry Alter Ego in what was arguably the hottest collaboration of the night (see the video below).
The event came to a close with an impressive appearance by Eleni Foureira (Greek national final 2010), whose name, year after year, is talked of as an obvious choice to consider for representing Greece at Eurovision.
In the following video, you can watch the joint performance of this year's Cypriot entry Alter Ego by Minus One, Evridiki and Ivi Adamou.