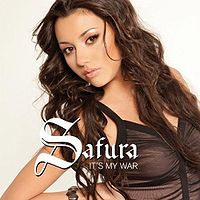 At the tender age of seventeen, Safura impressed the majority of viewers with her stunning voice and spectacular, goose bump-inducing performance at the final of this year's Eurovision Song Contest. Azerbaijan had clearly gained an appetite for success following last year's triumphant 3rd place.
This year's entry was indisputably the contests most costly – a great deal of resources, both financial and otherwise, had been used on the production and promotion of the highly contemporary Drip Drop. Could Safura back up the goods and please her fans with more material along the same lines of her Eurovision entry? It's My War is her first commercial release, and with 13 tracks, makes for a pretty impressive debut indeed.
Drip Drop provides the album's opening number, and the track needs no further introduction to the majority of fans. OK, so the song was perhaps over produced a tad, but there's no denying the fact that her vocal performance here, both live and in the studio, was flawless. Coupled with the combination of melody and drama the song is irresistible. The only flaw with this song is her weak pronunciation at times, but that's just me nitpicking. March On takes us into Beyoncé/One Republic territory, where Safura becomes more assertive, still offering powerful vocals. This cut is heavily R & B, with driving rhythms and an infuriatingly catchy hook (and annoying cheerleader chanting). That aside, March On should definitely be strong enough to enjoy release as a single in its own right.
Runaway continues in much the same vein as its predecessor, but doesn't come across as so cold and calculating with the piano accompaniment. Another uplifting number with more faultless vocals. The slick Swedish production is perhaps more evident on this number. Something Bigger sees Safura turn in a rockier vocal, with a much racier tempo, giving a welcome respite from the smoothness of the R&B vocal style. Further showcases the versatility of her voice and could be very successful as single material. It is refreshing to hear her really put her voice to the test on this track.
Glass House deals with problems in a failing relationship and at first hoodwinks the listener into thinking we've a ballad on our hands, before breaking out into a blistering, rocky chorus. Although it does have ballad elements, it would be fairer to say that Glass House is more of a hybrid track, with slower parts and a more up-tempo chorus. The oddly entitled From Her, From Love, I would have to say is the album's weakest track, but with material this strong, that's not necessarily a bad thing. Not as immediate as the previous tracks, From Her, From Love just seems a bit repetitive after the first minute or so. On Too Many Times, Safura sings convincingly of her woeful experience in the game of love. Handsomely tuneful with an edgier sound, this stands out a mile from a lot of the R&B style tracks on offer.
Gonna Let You Know is another extremely competent effort, telling of how it can be the very first time you take the plunge and let somebody know your feelings. Could easily have become quite mawkish, but instead surprises pleasantly with its sassy sound. Soulless starts off quite Rihannaesque but suddenly turns in an unexpected direction, becoming in some ways a throwback to the 90's, an unintentional homage to Ace of Base with an underlying reggae lilt. A scathing attack on someone who obviously did Safura wrong. When she holds that note at 2'28 and her voice becomes quite raspy is a treat.
That Means You Don't builds nicely enough, starting with an acoustic introduction before breaking into a finger-snapping chorus which I suspect Max Martin would be deservedly proud of. It lands somewhere in between Pink and Kelly Clarkson. Pop-rock is a style that suits Safura perfectly. The title track, It's My War, is one of the very few ballads included on the album, and is a very fragile, haunting melody which Safura carries effortlessly with a breezy, breathy performance. One of the highlights of the album.
The album comes to a close with two remixes of Drip Drop which to be honest seem a bit like overkill. The St. Destiny Remix at 04'57 is considerably longer than her version performed in the final, and does in truth succeed in translating Drip Drop into an extremely danceable club track, showing that it is just as appealing when performed as an uptempo number. The Success Remix gives Drip Drop a techno sound which is OK, but which the album could easily have done without.
The track listing is as follows:
Drip Drop (Album Version)
March On
Runaway
Something Bigger
Glass House
From Her, From Love
Too Many Times
Gonna Let You Know
Soulless (Album Version)
That Means You Don't
It's My War
Drip Drop (St. Destiny Remix)
Drip Drop (Success Remix)

I for one am most impressed with this debut and hope this is the beginning of many great things to come for Safura. She has more than convinced me with her vocal prowess, and her career, should there be any justice, should not be confined to the domestic Azerbaijani market. Pleased to make your acquaintance, Ms. Alizadeh!
Links
Safura's profile on her record label's webpage
Safura on MySpace
Buy the album here