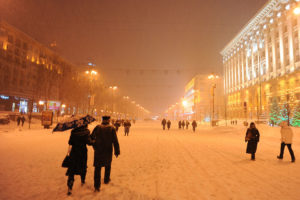 Snow fall in Kyiv meant cancellation of a planned press conference. The conference should have provided an update on the organisation of the 2017 Eurovision Song Contest. It was cancelled with two hours to go as they estimated that snow would cause too many traffic problems.
The Kyiv City Administration, which includes Mayor Vitali Klitschko, saw themselves forced to cancel the press conference. This was due to over night snow-fall in the city. An emergency meeting was held, and at that the decision was taken.
British Airways, FlyUIA and Whizzair reported delays up to 45 minutes flying into the city. And Kyiv Boryspil Airport have been affected for outgoing flights as well. A live stream from the city centre however shows the current situation in the city. Roads have quickly been cleared and there is soon no signs of snow problems.
As the weather reports for Kyiv shows no snow for the rest of the day, or the coming days, the meeting has been rescheduled for tomorrow. It will take place on the 15th November at 12 local time (11:00 CET/10:00 GMT). Deputy Chairman of Kyiv City State Administration Oleksiy Reznikov will lead the meeting.
In my view
My thoughts are that the city administration could be using this as another delay tactic, which is beginning to look bad on them. This delay is just another in a long line of many for the city, will they be ready in time for the show in May?

The opinion expressed in "In my view" are those of the author and are not necessarily the one of EuroVisionary.com.