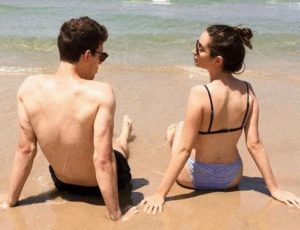 While many fans in Europe are freezing, the weather in Tel Aviv is extremely nice. Many of the participants use the time between rehearsals to get a nice sun tan and even build sand castles at the beach.
It's 7 degrees in Copenhagen, 11° in London, 12° in Berlin and Amsterdam and 13° in Paris – and that's day temperatures. It's quite cold in a big part of Europe at the moment, and many fans here wish they were in Tel Aviv too at the moment. Today it has been 33 degrees – and night temperatures at 18 really encourage you to stay out.
This year's participants do seem to enjoy the lovely weather too.
Lake Malawi, representing Czech Republic, also went to the beach, though they were a bit more dressed.
They sent the following message to their followers along with a nice photo of the three of them: "Soundcheck done! Seems like everyone's at the beach now. It's so hot in Tel Aviv, we have the free afternoon to rest".
---
Tamta, who is representing Cyprus, has posted several photos of herself in Tel Aviv in a lovely pink and blue outfit – and more will probably follow. She writes that she is "Enjoying sunny Tel Aviv in between rehearsals".
Later, she poses at a big Tel Aviv sign and added "Just give me some time to see more from Tel Aviv".
---
Ireland's Sarah McTernan shared a photo from an evening out the day after they arrived. With the very warm nights, you don't need a jacket, which most in this group photo also took advantage of.
Along with the photo, she wrote: "Arrived yesterday evening in tel Aviv, had such a lovely evening".
---
Sergey Lazarev used one of the mornings in Tel Aviv to go to the beach.
With a sun emotji and the message "Good Morning, Tel Aviv", he went for a walk in casual shorts and t-shirt. How many will recognise him casual like that?
---
The duo that represents Slovenia; Zala Kralj & Gašper Šantl, got the best out of a very warm day as they went to the beach.
Zala and Gašper have chosen to share a photo of themselves at the beach in bathing clothes. In the following text, they write that they did more than bathing as they "built some cool castles".
---
Serbia's Nevena Božović is truely enjoying her time in Israel too.
After a sightseeing trip to Jerusalem, she poses on a boat in Tel Aviv, clearly enjoying the nice weather.
With a smiley, she adds that it's "just work" 🙂
---
ZENA representing Belarus uploaded a short video from a little run at the sea – and wrote that it was a "Stunning sunny day".
In the coming days, it will be a bit colder in Tel Aviv, but still nice. Day temperatures Tuesday to Saturday are expected to be between 22 and 24. Sunday and Monday, it will get warmer again with around 27 degrees. Night temperatures will drop to 14, but then raising to the lovely 18 again towards the end of the week.