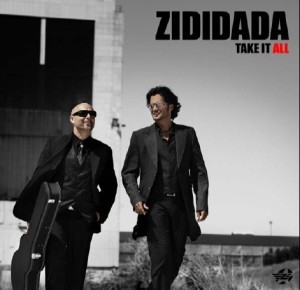 Danish national runner up from 2004, Zididada, have released their 5th album called "Take It All". They have a good loyal fan base and have achieved international success despite never really being accepted by the Danish critics.
Zididada released their first album in 1999, but their big break through came the year after with the single "Zididada Day" from the album simply called "Have A Zididada Day". The song became an international hit as well as "Walking On Water" from their third album Happy Fool" from 2002.
In 2004 Zididada came second in the Danish final, the Dansk Melodi Grand Prix, with the song "Prinsesse" (Princess) only beaten by Tomas Thordarson. The song was never released on any of their albums as it didn't feature on the 2005 album Music Makers and is not to be found on the new album either. This album is titled after the single "Take It All" that was recently used as theme for the American wrestling show WWE Judgment Day 2008.
Despite their sucess the Danish critics have never really liked them and it seems like the new album will not change that. Danish newspaper, Ekstrabladet wrote in their review: "Zididada still sounds like some shabby buttockmen, who rustles with some drum maschines from time to time and very fast becomes quite challenging to be in company with" and they continue: "One of the many horrible errors is called Hot Ass, but don't believe the title. Never have I been left so cold in my arse".
Below you can see the track list to the new album plus the wrestling video to Take It All and the music video to the previous hit Walking On Water.
01: If Was a Girl
02: Red Handed
03: Hostage
04: The Korean Librarian
05: Rather Be Lonely
06: Hot Ass
07: It´s All Over Me
08: Take It All
09: Karaoke
10: Love Yourself
11: Daydreamer
12: Woman Woman
13: Looking For Lover
Links