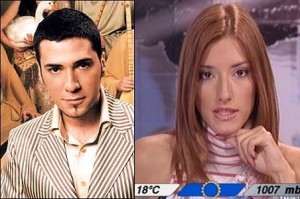 RTS today announced the two hosts for this year's Eurovision Song Contest.  Zeljko Joksimovic will accompany Jovana Kankovic in the task of presenting this year's show.
It comes as a big surprise to many who had linked several famous Serbian celebrities with the roles.  As many of you will already know Zeljko came second in the 2004 contest for Serbia & Montenegro he also wrote the song 'Lelja' which was the entry for Bosnia-Herzegovina in 2006. After a falling out betweeen RTS and Marija Serifovic earlier this year Zeljko was the invited to the draw for the semifinals on the 28th of January.
Jovana Jankovic, who was the host of the semifinals draw, is currently the anchor woman on RTS1's morning programme.  She will now have the much larger role of hosting the two semi finals and final of the 2008 Eurovision Song Contest.
Zeljko continues in the tradition of former competitiors hosting the contest. Lill Lindfors, Marija N and Sakis Rouvas.  Unlike those though he may be also the writer of the home entry aswell as the host, his song 'Oro' will be in competition in Beovizija 2008.  This is the the show that will select the Serbian entry to the 2008 contest.  The song will be sung by Jelena Tomašević.