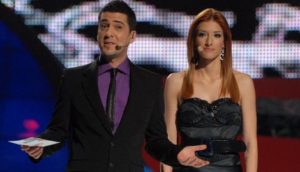 Ex participant of the Eurovision Song Contest, Željko Joksimović, has agreed to be the composer for the Belarusian singer for Dusseldorf 2011, Irina Dorofeeva. Željko has known Irina for 11 years because they have participated together in many festivals around Europe.
"Yesterday there was a meeting of their delegation where the head, Lukashenko, expressed his satisfaction that their months of work finally reached a positive outcome. I look forward to the competition since I won in Belarus two Grand Prix awards 10 years ago" said Željko, who had lot of success in the Eurovision Song Contest in past years, the reason why Belarus wanted him in the team.
He presented Serbia and Montenegro in the Eurovision Song Contest 2004, where he achieved second place with Lane Moje and 263 points, behind the winner of 280 Ruslana and her Wild Dances. Next year, he composed Leila, for Bosnian singer, Hari Mata Hari. Next time he entered Eurovision, Jelena Tomašević sang his song Oro and took sixth place.
The 2008 Eurovision Song Contest took part in Belgrade and Željko Joksimović and Jovana Janković were the hosts, where that contest got them closer to a happy relationship.
There were rumours that Željko would be chosen for Serbian as the composer, and on the question of how he came to work with Belarus and if anyone from Serbian broadcaster RTS called him to work on the songs, he said: "Honestly, that was the reason I have been waiting for that long. I made one song for a Serbian participant, in which I believed can be very successful. I had also in mind who can sing it well. But no one has contacted me."
RTS will later this month announce the name of the composer who will do a song. And in the last week of February, there will be a contest for the singer in one show on national television. The audience will vote by SMS and choosing the presenter of Eurovision Song Contest 2011 of Serbia.