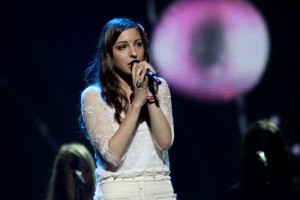 The Belgian girl Iris had her second rehearsal on stage at the Crystal Hall in Baku. She seemed a bit unsecure and the question is, will she make it to the final?
Iris is among the youngest Belgian representatives ever. And that is exactly how she appears on stage in Baku – young and innocent. 
The performance is very simple without any special effects, dancers or surprises. The song is to be sold to the viewers by Iris' performance and vocal alone. The big question is, however, is she able to do that? Iris seems a bit unsecure several times during the song and her voice is not among the strongest. 
However, she's not all alone. In the back of the stage three female backing singers are hidden away. 
Iris is wearing a short legged white skirt and a white top and she's got a red flower in her hair. The backing singers are all in black.
The background is pink bobbles in various sizes and just as the rest of the performance it's kept very simple.