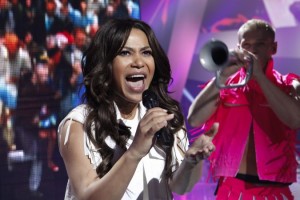 Gaitana sings "Take my hand and be my guest". Would her dream come true? We would like to wish that not just words. Let's watch her latest rehearsal in Baku and think about whether it is worth being a Ukrainian guest.
There were four moveable screens on the stage and when they were opened a guy in white and yellow laser outfit came out and started dancing, perfoming very good break dancing as well. Gaitana came up to the stage in white outfit and four boys in different coloured outfit (green, blue, orange and pink) were dancing and playing on trumpets.
The screens on the stage played a great part in the perfomance as they were showing multi-coloured lights and figures on them and at one point a flash mob of people dancing on it.  The background behind the screens was a swirling mass of different coloured paints.
As the rehearsal went on, Gaitana sang in the middle of the stage but at the second time of rehearsal something happened with two of the screens and she had to stop for a while. For the third time she perfomed great as everything was in order.  Gaitana has a great vocal as well singing even without music. 
All the people on rehearsal were applauding her, shouting bravo as well.  It seemed like they were mesmerised by her and are ready to be Guitana's guests in 2012.  All this leads to the strong chance of Ukraine making the final on 26 May.  We will know more after the second shorter reheasal later this week.  Stayed tuned to Eurovisionary for more in the coming days.