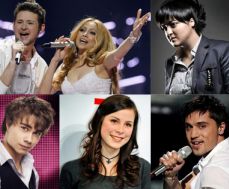 Local and foreign dance groups, singers and DJs will perform during the opening ceremony and interval acts during both semi-finals and the final. Today it was announced that the previous five winners of the contest will perform at the interval act show in the second semi-final.
A few days ago the interval acts for this year's Eurovision Song Contest were revealed and it will be a mixture of foreign and local stars from traditional to pop culture where Azerbaijan's music and culture will be represented.
Today it has been confirmed that Marija Serifovic, Dima Bilan, Alexander Ryback, Lena and Ell and Nikki will be together on the Baku Crystal Hall's stage for the second semifinal and they will be accompanied by Azeri musical instruments.
Besides this music band consisting of former Eurovision entrants, other popular local and foreign singers will be performing during the semifinal's interval acts.
For the time being, local pop singer and songwriter Emin, master of Mugham Alim Qasimov, Natiq rhythm band, Azerbaijan National Dance Ensemble and foreign dance groups and singers have been confirmed to perform during the opening ceremony and interval acts of the Grand Final.
On the other hand, the stage building is ready to host the event and it is going to be spectacular as stated by the mayor of the host city a few days ago at the opening of the venue. This opening ceremony was also attended by the President of the Republic of Azerbaijan Ilham Aliyev and the First Lady Mehriban Aliyeva who visited the Baku Crystal Hall with project managers and top leaders of the EBU.
Technical tests are being carried out as planned and the news coming in is that the sound is extraordinary and the lighting effects are awesome. The city is now ready to welcome all the journalists and fans of the contest and to host the 57th edition of the Eurovision Song Contest.