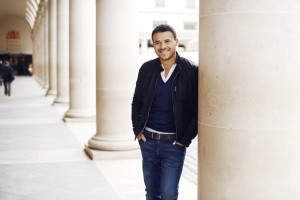 Azerbaijani singer Emin, who is about to release his second album, and already had success in Russia as well as United Kingdom, will be performing as guest act during the final of the 2012 Eurovision Song Contest. It is yet to be announced if he will perform as interval or opening act.  
The performance at the final of the Eurovision Song Contest on the 26th of May will come just few days after Emin's second album After The Thunder will see its release in Azerbaijan as well as internationally. 
About the chance to perform at the contest and to hundreds of millions TV viewers around Europe Emin says: "It is probably the single biggest opportunity to be able to perform as a guest during the Eurovision in the country which is your home country, how often does that happen? Once in a lifetime and it's great. Every time you perform for a big crowd it is very exciting, if you perform in your home country it is twice as exciting and if there are also hundreds of millions of people watching then it is just unbelievable. I think I don't even understand what it will feel like but I am very excited".
His first album Wonder from 2011 was well received in the UK where BBC Radio2 gave it plenty of airplay and named it their "album of the week".
Emin, with the last name Agalarov, also hope that his home country hosting this year's Eurovision Song Contest will make more people able to find Azerbaijan on the map: "I think it's an incredible showcase for my country, a small country that many people would probably not even be able to find on a map but hopefully this will inspire an interest to 'Google' Azerbaijan and see where it is and perhaps go there". Emin himself is also signed with a German record company, but it is in the United Kingdom he puts his focus on: "Britain has been a huge influence on popular music and the amazing singers and bands that have come out of this country are simply too many to mention … If you can make it in Britain then I think you can make it anywhere – it is music's Mount Everest!" 
Emin is married to Leyla Aliyeva, the daughter of the president, Haydar Aliyev, whose wife Mehriban has been appointed Project Manager of this year's Eurovision Song Contest. 
Below you find a link to Emin's website where you can hear more of his music where you can hear more of his music. The second album After The Thunder will be released on 21st of May 2012. 
Links