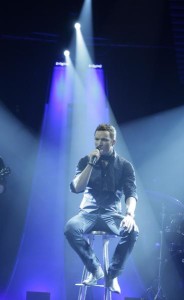 With the Danish broadcaster, DR, directly talking about a second place in the 2009 Eurovision Song Contest not being good enough it was clear already before tonight's Dansk Melodi Grand Prix that the winner would be in for quite a challenge. The Danish viewers decided that Brinck will be the one to live up to those high expectations.
DR has put a lot of effort into this year's Dansk Melodi Grand Prix and their expectations might seem impossible to live up to. They have made it clear that they mean business this year and want to put everything they can into winning the Eurovision Song Contest in Moscow in May. The first challenge for tonight's winner will be to qualify for the final. As Denmark was a bit unlucky in the draw this is not going to be easy.
The show started out showing DR's bigger effort this year. It opened with a rock version of Te Deum. Really a strong and interesting version, but unfortunately that turned out to be one of few things that worked. The show suffered from technical problems, camera work that didn't always fit and even the very professionel Birthe Kjær, who represented at the 1989 Eurovision Song Contest, forgot her lines from time to time. At one point she even walked straight into a camera man! These technical problems even meant that Brinck had to start all over when the music was given problems at his first performance.  
In the new format for the Danish final four of the ten competing songs were selected to continue in the process. This selection was as something new made with 50% jury. The jury consists of Bent Fabricius-Bjerre, Martin Brygmann, Kjeld Tolstrup, Søs Fenger, Anna David and Michael Hardinger. All well known musicians in Denmark. In addition DR held a radio quiz in the past week to pick one more jury member. The winner of that completion ended up being 36 year old Kalle Meyer Vestergaard. He describes himself as a Eurovision Song Contest fan who however listens to all kind of music. That also fits with his job as a radio host on a local radio station in Skagen, North Jutland.
It was not revealed if the jury voted differently than the viewers. The result from the first round was that the 80's Dansk Melodi Grand Prix song Sukkerchok got through. The same did Icelandic singer Hera Björk with the fan favourite Someday. The last two spots went to Brinck singing Believe Again, co-written by Ronan Keating from Boyzone, and popular Danish band Johnny Deluxe.
After this result the hosts Birthe Kjær and Felix Smith performed a Eurovision Song Contest medley that consisted of Dansevise (Denmark 1963), Kisses For Me (United Kingdom 1976), Waterloo (Sweden 1974), Diggi loo Diggi ley (Sweden 1984), Ein bißchen Frieden (Germany 1982) and Smuk Som Et Stjerneskud (Denmark 2000), but strangely enough didn't include Birthe's own entry Vi Maler Byen Rød from 1989.     
The four lucky ones were then divided into two groups from where they would battle it out one act against the other. Sukkerchok was up against Hera Björk while Brinck was meeting Johnny Deluxe in this knock out round. From this point we had said goodbye to the jury and the viewers alone decided that Hera and Brinck were stronger than their opponents. It was now clear that the 2009 Danish entry would either have the title Someday or Believe Again.
After their third performance tonight the viewers were once again asked to vote. The question was very simple: Who should have the honour of winning this year's Dansk Melodi Grand Prix and represent Denmark at the 2009 Eurovision Song Contest? After a short voting time the Danish population had chosen that it would be up to Brinck with his Believe Again to win in Moscow and bring the Eurovision Song Contest back to Denmark for 2010.
Below you can watch the first performance of the song – with technical starting problems!