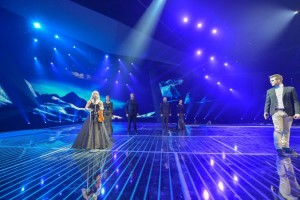 Iceland's darlings Greta Salóme and Jónsi took to the stage amidst extremely high expectations of a stellar performance. They gave an amazing show in the national final Söngvakeppni, but would they be able to replicate it in Baku and give us an equally unforgettable performance?
And so Sunday continues with the Icelandic duo, Greta Salóme and Jónsi up next to prove they've got what it takes to lift Iceland out of their semi final, just as they have donw for the past  four years.
A stunning sapphire blue backdrop combined with mountain imagery and a wind machine provides the perfect complement for perhaps one of the most eagerly awaited rehearsals of the day. The choice of imagery is no doubt a reflection on the lyrical content of the song, providing drama and also bringing some of the elements from the music video into the cavernous Crystal Hall.
Greta Salóme appears to be wearing something similar to what is confirmed as her outfit choice for the semi final, namely the flowing black dress but without the gold bodicework at the front. Jónsi took to the stage wearing a dark jacket (blue or black, a bit difficult to tell with the lighting), chino trousers and white shirt. The duo are flanked by four backing singers who are dressed in dark satin outfits in muted colours, blending in discreetly with the backdrop.
Despite little sleep, both singers seem to be vocally in fine form and eminate confidence.  Despite a rather shaky start from Jónsi with a couple of notes that were slighlty off key, he manages to deliver a powerful performance. There's no faulting Greta Salóme's vocals either. The pair delivered a competent, solid vocal performance that they can be justly proud of, a stark contrast to their predecessor. The only fault I could find was that the vocals seemed to be drowned out to a certain extent by the backing track.The backdrop shifts colour to black and red towrds the end of the song in the build up for a dramatic finish.
The staging is more or less the same as from their perfomance at Söngvakeppni Sjónvarpsins, which is a good thing as it leaves much less margin for error – with just the righ amount of interaction between the two, it comes across as well and well rehearsed on screen. The final notes of Greta Salóme attracted much cheer from the hall. If they manage to deliver consistent performances such as we've seen today, they will have no trouble whatsoever in taking Iceland into its fifth consecutive semi final.