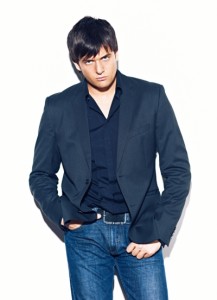 George Koldun is a popular singer and entertainer in Belarus. This year he tried to enter the Eurovision Song Contest for his home country. Will George take the same steps as his brother, Dmitry, and take to the Eurovision stage?
Dmitry Koldun represented Belarus in the 2007 Eurovision Song Contest in Helsinki with Work Your Magic.   George is hoping to emulate his brother and sing at Eurovision. This year he tried with the song, Heavy On My Heart.
George was born in 1976 in Minsk.  His love for music and the arts lead him to take the entertainment path after graduating from university.
His work is very diverse.  He began as a presenter on Alpha Radio and Radio-ONT.  He took first place at the Young Performers category in the Vitebsk 2007 competition and took the top prize at the Golden Ear contest in 2010.
George released his debut album in 2008 called Fragments.  He has appeared in many TV projects in Belarus, Russia and Ukraine.  He is also the presenter of the popular quiz show in Belarus, One vs Everybody.
George is currently working on his new album and may attempt for Eurovision again very soon. You can read more about George and listen to some of his songs on his official website.