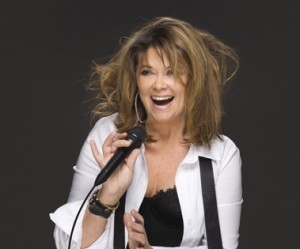 Wenche Myhre, one of Norway's most beloved artists, with a career spanning 5 decades recently experienced every woman's nightmare when a growth was discovered during a routine breast check.
The 63 year old went for a routine mammogram 2 weeks ago, when a small growth was discovered. According to doctors, the prognosis is good, as the benign tumour was apparently caught at an extremely early stage. The operation was by all accounts a success, and she was discharged the following day. The operation and treatment have meant that Wenche has had to cancel a number of committments and appearances this coming autumn.
Wenche released a statement through her lawyer to VG, one of Norway's largest tabloids, telling them that "Of course it came as a shock to me, as to everybody else, but when the staff at the hospital informed me about treatment options and their routines for post operative monitoring,I feel as if I'm in the very best hands. I just need to think of the whole situation and the treatment as a challenge. I need to give myself and my family top priority over the coming months, and at present I have no further comments".
Wenche has enjoyed great success as an artist both in Norway and Sweden, as well as major stardom in Germany, where they practically adopted the teenager as their own during the 60's, affectionately referring to her as Die Wencke. She went on to represent Germany with Ein Hoch Der Liebe in 1968, acheiveing a very respectable 6th place. The star has surprisingly never represented her home country, the closest she came was in 1992 placing third in the national selection with Du Skal Få Din Dag I Morgen (You're Day Will Come Tomorrow).
Links
In my view
I would like to take this opportunity send Wenche my very best wishes and wish her a speedy recovery; I'm sure that her recent experience will merely make her stronger and give her an even bigger desire to entertain, perform and please others. I look forward to seeing Wenche back, bigger, better and more beautiful than ever!

The opinion expressed in "In my view" are those of the author and are not necessarily the one of EuroVisionary.com.