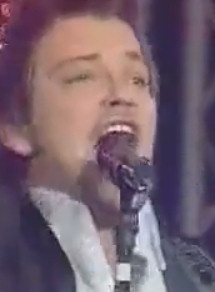 Macedonia became the latest country to choose its song for Dusseldorf after a marathon weekend of finals. Vlatko Ilievski beat nineteen other songs to become Macedonia's 11th Eurovision Song Contest entry.  He will sing a song called Rusinka
The show itself was a bit of an all-nighter, lasting four hours. It was hosted by Elena Miteva and Zoran Mirchevski from Universal Hall in the capital, Skopje.
Rok Agresori – Kukuriku (Aleksandar Ristovski-Prince & Zoran Trikov)
Bobi Mojsoski – Te Krade Toj (Lazar Cvetkovski & Ognen Nedelkovski)
Olivera Gorgoska – Na Kraj (Goce Simonovski & Radi Vrcakovski)
Angelina Stojanoska – Znaesh Li (Daniel Mitrevski, Petar Dimitrovski & IrenaDimovska)
Skipi & Tajzi – Ostavi Politika I Pojachaj Ton (Skipi & Tajzi)
Amir Ibraimovski & Art Sound – Posledna Pesna (Gligor Kodoski & Jovan Vasilevski)
Emilija Gievska feat. Andrej Miske – Paranoja (Boban Apostolov & Zoran Rudan)
Riste Tevdoski – Ne Se Menuva Ljubovta (Lazar Cvetkovski & Milan Milanov)
Martin Srbinoski – Ram Tam Tam (Goce Simonovski & Martin Srbinovski)
Lidija Kochovska – Bozhji Pateki (Aleksandar Cekredzi & Maja Pavlovska)
Goran Kargov – Lazham Deka Ne Boli (Hris Marin, Vladimir Dojcinovski & Petar Acev)
Zdravka Mirchevska – Ludost (Zdravka Mircevska & Kiril Babamov)
Natasha Milankova – Greshka (Stole Avramov, Zoran Aleksic & Mence Avramova)
Ile Spasov – Koshmar Moj (Ile Spasov & Ognen Nedelkovski)
Filip Jordanovski – Sekogash Nekoj Povekje Vredi (Darko Tasev & Blaze Temelkov)
Natalija Slaveva – Ne Mi Trebash (Zoran Aleksic, Stole Avramov & Daniel Bankov)
Ivan Jovanov & Denis Eks – Kockar (Denis Hajdarevic & Ivan Jovanov)
Offside – Sekoj Den (Milan Milanov & Goce Simonovski)
Vlatko Ilievski – Rusinka (Gilgor Koprov, Vladimir Dojcinovski & Jovan Jovanov)
Vodolija – Ne Vrakjaj Se (Risto Apostolov)
During the show, viewers were entertained by last year's Macedonian representative, Gjoko Taneski and Croatian group, Feminem and Elena Ristesa, who performed her 2006 Eurovision entry, Ninanajna

The winner was decided by a combination of a viewer phone vote a jury.  Vlatko achieved the top score in both and will try to qualify from the second semi-final.