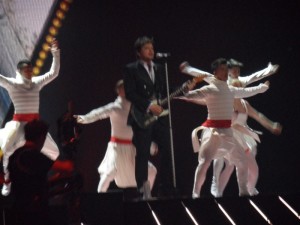 Vlatko Ilievski and his dancers gave a great show at the 2nd rehearsal for FYR Macedonia for the song, Rusinka.  There was a Russian theme running through the whole performance.
Vlatko was dressed all in black and playing a guitar.  There were 5 dancers, 4 male and 1 female, all dressed in white.
The dancers stole the show with an energetic performance.  There was Russian style dancing on the stage with the dancers saluting too.
The background was colourful with the word Musica in the Cyrillic language revolving around.
All in all a great performance with Vlatko's vocals proving very effective.  On this performance, FYR Macedonia should make it to the final.