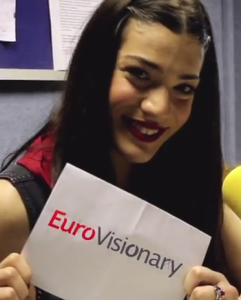 EuroVisionary recently attended a press conference at London Greek Radio for Ivi Adamou, the Cypriot participant for the 2012 Eurovision Song Contest in aid of her promotional tour around Europe. Later that evening, she performed her Eurovision song La La Love at The Stone Marquee in London.
EuroVisionary was invited to the studios of London Greek Radio on Thursday 19th April 2012 for the press conference and live radio interview with Ivi Adamou. It was here she told us her thoughts on the contest, what we can expect to see from her in Baku, and also a special performance of La La Love itself. 
Do you want to know what it's like a day in the life of Ivi Adamou, Cyprus' bid for this years Eurovision Song Contest? Ivi tells us all about herself and her song La La Love which she will perform in the first semi final in Baku in the featured video below.
EuroVisionary would like to thank all of Ivi's team, London Greek Radio, and of course Ivi herself.