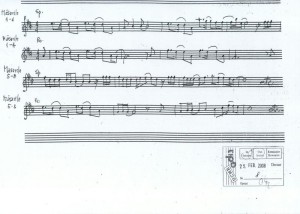 As previously reported TVR would look closer into the matter regarding plagiarism accusations towards the Romanian winning entry. A special meeting held today has now ended and the result from the committee: Pe-o margine de lume is not plagiarism.
Fans might be accusing TVR of not being objective, but in order to meet those accusations they have asked the professional commission UCMR-ADA to help compare the two songs; the Romanian winning song, Pe-o margine de lume and La Magia del Corazon which David Bustamante sang to a third place in the Spanish selection in 2002.
They have studied the two songs very closely down to every little note. TVR has provided EuroVisionary with the result of the comparison and we will publish that in order for our readers to be satisfied with the fact that the two songs might be similar in some ways, but it is not plagiarism.