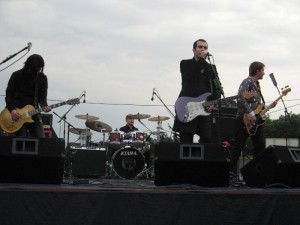 On Monday evening, the Turkish delegation had invited press and fans from all over Europe to attend a party.
It was all very well organized with a lot of great food and drinks and of course, several artists from this years Eurovision Song Contest. First to perform was Swedens Charlotte Perrelli who sang this years Swedish entry "Hero". Next up was Czech Rebublics Tereza Kerndlova who of course sang her song "Have some fun". After that we got to enjoy a mini concert by Mor ve Ötesi, this years Turkish entrant. A number of their songs were performed as well as their Eurovision entry "Deli". To end this great evening was first Serbias Jelena Tomasevic and then Albanias Olta Boka who performed the songs they are competing with this year.
EuroVisionary would like to thank Viktoria Karlsson for this article.