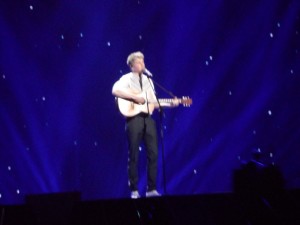 Paradise Oskar gave his 2nd rehearsal of Da Da Dam with some feedback problems.  The song has a nice simple melody but the vocals seemed to echo in the arena.
It is just Paradise Oskar on stage with a guitar.  He was wearing a white shirt and dark trousers with light coloured shoes.
The background begins with lots of stars in solar system.  Then the earth gradually appears from below.  The globe is revolving and really big.  This does bring a good effect to the performance.  It makes Paradise Oskar look big and own the stage.
I actually found myself looking more at the large earth in the background.  This could be a distraction for viewers on tv.