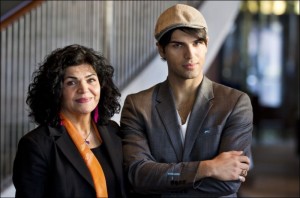 Norway came 26th and therefore claimed stake on the jumbo position in this year's final of the Eurovision Song Contest, coming last for a record 11th time. Critics have attributed the poor placing to an average song but Tooji's mum however claims there are far more darker reasons behind her son's dire result.
NRK and Tooji left for Baku with one mission and one mission only : to win. Norwegian press were well represented in the Azeri capital with journalists from both TV and media present, poised to witness Tooji's triumph in the final performing the swedish-norwegian entry Stay. Some of you may already be aware of the fact that Tooji's performance was in jeopardy until mere minutes before he was due to take to the stage, following an incident following the detaining of a norwegian-iranian reporter.
Amir Asgarnehjad was apparently in Baku during the run up to the international final and as part of his reporting, he made satirical stunt interviews on the street with passers by, for the radio station NRK P3. Azeri authorities took offence at his supposedly lighthearted take on the contest and did not take kindly to Asgarnehjad's apparent insults against both Azerbaijan and her people. So much so that upon leaving Baku, the journalist was detained at the airport, taken into a room for interrogation, forced to undress and had to undergo a cavity examination. He was also forced to spit and stamp on the Iranian flag, the whole seance reportedly being filmed while it took place. Such extreme behaviour provoked a demand from NRK for an official apology from Azerbaijan, with threats of a last minute withdrawal for Tooji.
Now that the dust has settled and the fiasco has become reality, the whole debacle has taken a suprising twist in the form of Tooji's mother, Lily Bandehy. She herself was with Tooji in Baku when the whole sorry episode took place and once home has been quick to point the finger. She puts the poor position of Stay solely down to Asgarnehjad's antics, claiming that the event ruined Tooji's chances of success : "The iranian reporter from NRK ruined Tooji's chances at the final in Baku" she claims, stating that "he got his 15 minutes of fame at Tooji's expense."  Tooji's manager, Kathrine Synnes was quick to react, forbidding Bandehy to make further comments to the media. By then however his mother had already posted the following status update on her facebook profile: "He (the reporter) knew all to well that Iran and Azerbaijan are old enemies and it didn't help matters that he claimed Tooji was iranian. He may be born in iran but he's Norwegian. In his last tactless report, the journalist stamped onm the Azeri flag. Azerbaijan were our hosts and have made us feel so welcome. The azeri people are a proud folk and of course they feel insulted by his behaviour. He was fully aware of the reaction this would get both in Azerbaijan and the region, gaining exposure at Tooji's expense."
Asgarnehjad on the other hand can't understand how the sketches managed to get attention outide of Norway and claims how sorry he is if his behaviour has caused any upset. In a short interview with tabloid Dagbladet he states "Our aim was to create something fun, something which both Tooji and his mum could laugh at. The last thing we wanted was to create bad feeling between ourselves and Tooji's family." Head of programming at NRK Per Arne Kalbakk has also seen fit to comment on the situation, defending Asgarnehjad but apologizing for any upset caused : "It is a rather sensitive issue, so I fully understand the criticism. Any criticism however should be aimed at NRK and not the journalist", he goes on to say "Amir simply did what we asked him to. It is entirely our fault but we stand by the content of the reports that were made."
We'll leave you to decide whether Stay's poor performance is down to NRK and the norwegian public voting for a poor swedish Melodifestivalen reject and the fact that the song just simply was not up to scratch or whether it was down to deeper, more sinister reasons.