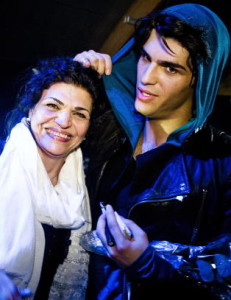 Never one to be kept down, the bubbly and optimistic Tooji has licked his wounds from the last place at this year's Eurovision Song Contest and is ready to release his newest single, a tribute to his mum.
With a humiliating last place in Baku, charmer Tooji didn't seem to have garnered enough votes from the teenage girls around Europe that the heartthrob had anticipated. With his new single If It Wasn't For You, it may appear that he now wants to try his luck at winning over the hearts of the more mature female – he's planning on grabbing the granny vote.
The follow up and contrast to his slick dance number Stay couldn't be bigger – If It Wasn't For You is a clear tribute to his mother, who, as Norwegian media portayed in the run up to the national final, made a lot of sacrifices for Tooji when he was just a toddler, when they fled from Iran to Norway as political refugees. The release has met with a rather lukewarm response from the press, with some leading tabloids only giving him half marks.
The song is described as a powerballad, containing clear, potential hit elements which should mean that Tooji's newest offering at least gets some airplay this summer. Tooji plans to promote the single's release this coming Friday with a performance at the huge open-air VG lista concert in Oslo. Since returning from Baku, the aspiring artist has been playing small scale venues and making various appearances, so his newest release will hopefully have some impact.