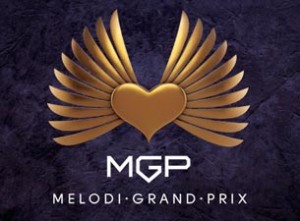 Tickets for one of the most eagerly anticipated televised events of the year in Norway went on sale today : it's time once again for the 2013 edition of Norwegian Melodi Grand Prix. Alongside the release of tickets, a few more details became known about the national selection.
The humiliating defeat of Tooji and yet another jumbo placing at the bottom of the results table is soon to become a thing of the past, as tickets went on sale today for what regularly attracts one of the biggest domestic TV viewing audiences in Norway. Some hate it, others love it but everyone has an opinion on it; it is of course Melodi Grand Prix.
It would seem that Norwegian broadcaster NRK, despite a disastrous result in Baku are determined to stick to the same format as used in previous years, and, as for the first time last year, choose not to have a Sistesjansen heat, but instead to have three semi final heats before the grand final which is to be held on the 9th of February. The complete list of host towns is also now known, with the final confirmation of Larvik as host town being made. The semi final heats will therefore be as follows:
19th January Semi Final 1 – Steinkjer
26th January Semi Final 2 – Florø
2nd February Semi Final 3 – Larvik
9th February Final Oslo Spektrum
Tickets have gone on sale through the website billettservice.no, with standard seats priced at NOK 420 each. Family packages can be purchased, with the average seat price working out at NOK 320. Reservation fees apply to the total ticket cost. Alternatively, purchase of tickets can be made by phone, with overseas fans wishing to attend being able to call +47 815 11 211.
According to the offical website of Oslo Spektrum, the grand final will supposedly consist of ten songs. You don't need to be a mathematician to work out that if three songs advance from each semi final heat, that leaves one spot up for grabs in the grand final to be hosted by Jenny Skavlan and host of the Eurovision Song Contest 2010 Erik Solbakken. Just like last year, NRK will reserve the right to award a wildcard status to the act of their choice that did not make the final, thus giving them a reprieve and sending them to Oslo Spektrum on the 9th of February.
Rest assured that we will keep you informed of all updates concerning the Norwegian Melodi Grand Prix as and when they appear. Do you think the 19th of January seems a long way off? Well, in the meantime you can watch a performance Stay by last year's winner Tooji. Below you can watch our 3D video of his performance. As always, we strongly recommend watching this video in 3D to enjoy it to its fullest, but if you do not have a pair of suitable glasses this can easily be turned off in the player below to watch in regular 2D.