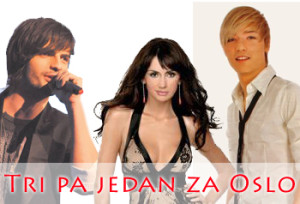 After a few weeks of speculation in Belgrade, the candidates who will participate in the Serbian national selection for the Eurovision Song Contest 2010, in Oslo have been revealed.
During the selection of the singers, it was hard to make the decision about which singers will be singing in the final. There was a lot of speculation by the audience, but some of them were right. In co-operation with composer Goran Bregovic, songwriter Marina Tucakovic and music editors from the Serbian broadcaster team, they got the three finalists who will compete on 13 March, and one of them will be the Serbian participant for Eurovision Song Contest 2010.
The three participants, Emina Jahovic, Milan Stankovic and Oliver Katic will sing in the special show "Tri pa jedan za Oslo" (Three Then One for Oslo).
There were three days of castings in Goran's studio where all singers prepared for the show. After many weeks of considering who was the best singer, they chose three of them. On that casting, Bregovic took one more female singer, Jelena Markovic, who will sing backing vocals for Oliver Katic. Now they will all go back to the studio to work on the final music, on the arrangement and the best production. They will also think about costumes and scenery for the final night show.
These three finalists will present themselves twice during the final show. The votes will come from television viewers. In that show, there will be some previous Serbian participants from Eurovision Song Contest: Marija Serifovic, Jelena Tomasevic, Marko Kon, then Croatian singer Severina, last year's Bosnia and Herzegovina band Regina and singer Zdravko Colic, who will sing compositions from Goran Bregovic's albums.
About the finalists:
Emina Jahovic is a popular 28 year old Serbian pop singer. She was born in Novi Pazar and is also known as Emina Türkcan in Turkey after her older brother Mirsad Türkcan, a naturalised Turkish basketball player. She is married to Turkish singer Mustafa Sandal.
In 2000, she won the youth festival 'Zlatna Staza' (Golden Path) in Montenegro, with the song Samo ti, moja muziko (Only you, my music). In 2002, Emina participated in the Bosnian Eurovision pre-selection BH Eurosong with the song U, la-laIn.
In 2003, she participated in the 'Sunčane Skale' festival in Herceg Novi, Montenegro and won third place with her song Uzalud se budim. She took part at the festival again in 2004 with the song, Voljela te il' ne voljela.
In 2005 she released her second album, Radije ranije. She took part in the Budvanski Festival 2005, with the song Nije više tvoja stvar, and won the award for the best song writer.
In 2008 she released her maxi-single Exhale which was produced and recorded in New York City under the production wing of Bojan Dugic, who has worked with some of the biggest names in music today. Also, her new famous songs are Pile moje, and a duet with Sasa Kovacevic, Jos ti se nadam (I still hope for you)
She is also famous as the Serbian Penelope Cruz. So far, she has released four albums:
1.    Tačka (2002)
2.    Radije ranije (2005)
3.    Exhale (2008)
4.    Vila (May 21, 2009)
Milan Stankovic is a Serbian pop singer, born on 9 September 1987 in Obrenovac. He graduated from medical school in Zemun, from the medical technician department. When, as a kid, he was asked what he would like to be when he grew up, he always answered, "Prince, or cowboy". Now he has become a singer. His hobby is watching television, and only auditioned for "Zvezde Granda" thanks to his sister and his uncle. In the competition he passed to the final, and after it, he continued singing and making music. His latest songs are Solo and Face (facebook) where he made a music video.
Oliver Katic is a Serbian singer and songwriter. His passion for classical music and opera led him to study opera singing in the Academy of Music in Nis and in the Royal Conservatory of Music in Brussels.
He's currently performing solo, and his solo show, "Solo Acoustic Night", is taking place in several clubs in Serbia, where he performs cover songs as well as his original songs. In 2004, he performed in a music festival in Budva (Montenegro), with the song Istina (Truth).
Oliver is preparing his first solo album.
He is a co-author of the song Previse reci, together with SevdahBaby. From their unique combination of talent and ideas we can expect fruitful work, since their collaboration has been very successful before. In March 2009, they participated in Beovizija 2009. The song, Previse reci (Too Many Words) was performed by Miki Element.
In 2009 he took part in the Serbian national talent show, "I got the talent" competition and won the second prize.
Here you can see their music videos with famous songs.
Links
Emina Jahovic – Pile moje
Milan Stankovic – Face
Oliver Katic – Istina