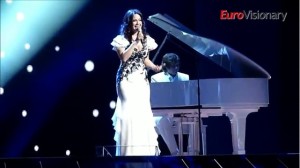 The third semifinal in Lithuanian national selection was held last night. Nine acts fought for the battle of making it to the final where only three acts qualified. The fourth and the last semifinal will be held next weekend with the Lithianian final being scheduled for the 3rd of March.
The third semifinal was held last night in the Lithuanian selection process. Nine acts competed be among the first three, which secured their seats for the final show. The nine acts were as follows;
Thundertale – Heroes, Arise!
Sound's Engineers ft. Natalie – Blind
Donatas Šimkus – Dūmas – Party All Day
VIG Roses – Come Back Home
Bekešo Vilkai – Letter By Letter
Greta Jorudaitė – Show Me What You Got
Liepa – Viena
Gražvydas Sidiniauskas – When I Say Yes
Monika – Happy
The results were deciding on standings after the calcutaions of jury and televote in a 50/50 split. The first three placed qualified directly to the final. The results were:
Monika – 24 points (1st in the jury voting)
Vig Roses – 18 points (3rd in the jury voting)
Bekešo Vilkai – 17 points (2nd in jury voting)
Donatas Šimkus – Dūmas – 15 points
Liepa – 10 points
Sound's Engineers ft. Natalie – 9 points
Greta Jorudaite – 9 points
Thundertale – 9 points
Grazvydas Sidinauskas – 8 points 
After the third semifinal in the Lithuanian selections a total of nine participants  fir the final are now known. The fourth and last semifinal show will be held next saturday and it will start at 20.00 CET (21.00 local time). It will be broadcasted by the national broadcaster LRT. Another three participants will join the current nine finalists. The participants list for the final now looks like:
The Independent – Baby
Multiks – Star
Beissoul – Why
Alive Way – Amazed By You
Vytautas Matuzas – Take It Back
Katažina – Euforija
VIG Roses – Come Back Home
Bekešo Vilkai – Letter By Letter
Monika – Happy
Last year Lithuania was presented in the final of Eurovision Song Contest by Evelina Sašenko with her song C'est Ma Vie. This year, Lithuania will take part in the second Semi-Final of
the 2012 Eurovision Song Contest in Baku on the May, 24th.