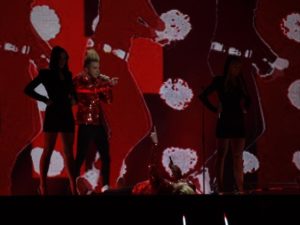 The day has finally arrived and you can feel the excitement in the air; the buzz around the city is fantastic; it's most entertaining to see the hordes of teenage Jedward fans making their way to the Arena today to see the 3rd dress rehearsal. With not that many ballads among the line up, we're in for an entertaining evening!
Note: The opinion expressed in this article are those of the author and
are not necessarily the one of EuroVisionary.com
The opening act
As in previous rehearsals, Stefan Raab is joined on stage by his co-hosts Anke & Judith for a totally reworked version of Lena's Satellite, which has everything – rock, big band and comes across very entertaining. He's joined on stage by youngsters bearing and waving the flags of all 43 participating countries before Lena makes her appearance on stage towards the end of the number to give her contribution.
A short film follows showing the development of the Esprit Arena which really gives you an impression of the sheer size of the place and the mammoth job that has been done by the host broadcaster. 
Song number 1. Finland Paradise Oskar – Da Da Dam
A gentle opener for this year's contest, Axel strums along with his guitar singing a message about saving the world. Although fancied by many as this year's dark horse, I find it too naive in a way, too bland to make an impact. He has bags of charm and looks very au fait in front of the camera, and his globe backdrop is extremely fetching. Sang out of tune in some places, but that just added to the charm of the song.
Song number 2. Bosnia & Herzegovina Dino Merlin – Love in Rewind
And so the curse of number two befell Bosnia this year. A strong song by former participant Dino, with a slight melancholic air and a driving rhythm which will have you tapping your feet along to the tune. A very crafty opening which should help to lodge the song in the memory of many viewers around Europe. A confident performance which appears well on stage. Could very well be making a challenge for the top 5.
Song number 3. Denmark A Friend in London – New Tomorrow
And so the turn of the Danes finally arrived to give us their stadium rock number. Having given us consistently great rehearsals and performances throughout the week, today was no exception. This surely has to be in the running for the top spot, listening to it gave me goosebumps and we could well be going to Denmark next year.
Song number 4. Lithuania Evelina Sasenko – C'est Ma Vie
The first toilet break of the night. This could be taken straight out of Miss Saigon or something similar. Evelina gave a faultless vocal performance and is clearly fishing for votes by doing parts of her number in accompanying sign language. Too outdated to make any kind of impact, extremely heavy to digest and so very, very pompous.
Song Number 5. Hungary Kati Wolf – What About My Dreams?
Kati has taken this number and turned it around totally. From the first rehearsals, they have obviously taken note of criticism and decided to tone down the distracting backing dancers. Amazing vocal performance where Kati belts out this stomper. I hope she manages to make a challenge for the crown. Bravo Kati!
Song number 6. Ireland Jedward – Lipstick
Jedward are a danger this year. I don't think the juries will go for this one, but the televoters are going to find it irresistible. Slick presentation, possibly one of the best of this year. As somebody put it, it's a good job Jedward have 4 good backing singers, as their talent clearly does not lie in the vocal department. A blinder of a song, that will definitely make its mark on the scoreboard this year.
Song number 7. Sweden Eric Saade – Popular
And so young Eric takes to the stage with his tightly choreographed number. I personally don't see what all the fuss is about with this song at all – it makes no impression on me, despite the dynamic performance. Eric gave it his all, shame that the glass shattering doesn't come across so spectacular though. Can't see Sweden making the top ten this year, though I could be wrong!
Song number 8. Estonia Getter Jaani – Rockefeller Street
Getter Jaani should get the award for the most original entry of the year. She beams her way throughout, clearly enjoying delivering a
punchy performance, if somewhat shouted in places. The effects and choreography are working much better now, making Estonia a clear contender for a spot in the top five. A gem of a pop song.
Song number 9. Greece Loucas Yiorkas feat. Stereo Mike – Watch My Dance
This has got to be one of the weakest Greek entries in a long time, which is a shame as they are usually relied on for giving us a great song. Loucas' vocals are solid and intense, the backdrop is striking but the song is totally marred by the rapping of Stereo Mike, and despite what the Greek delegation might say, these two musical styles make for an extremely bad match! No top 10 spot for Greece this year. 
Song number 10. Russia Alexej Vorobjov – Get You
One of my personal favourites this year, Alexej's act has come on leaps and bounds (literally) since the first rehearsals. Russia have put a lot of thought into their entry this year and it shows. Alexej sings his heart out, and although not as impressive as he sang in the first semi with his vocals seeming a little tired, this is also, in my opinion one of the entries vying for the top spot this year.
Song number 11. France Amaury Vassili – Sognu
Time for the French to take to the stage, and capture the hearts and votes of Europe. I'm no fan of classical music, but this is stunning, with young Amaury giving a competent, elegant performance which can't fail to hoover up the votes from all around Europe. Stunning. Could it finally be the time for France's revenge?
Song number 12. Italy Raphael Gualazzi – Follia d'Amore / Madness of Love
You've got to admire the Italians for their braveness. They're away from the contest for 14 years and make their return with such a niched number. Jazz is not my preferred musical genre, but this is sexy, sassy and seductive with an empassioned performance from Raphael that should have juries around Europe swooning!
Song number 13. Switzerland Anna Rossinelli – In Love For a While
Switzerland are back in the final for the first time since 2006 and deservedly so with this bubbly, charming little number. There's something so sincere and honest about it that makes me so happy when I listen to it. I fear however that the rest of Europe won't find it so catchy, however, with the lovely Anna ending up mid field at the end of the evening. A cracking performance with the trio clearly enjoying themselves on stage.
Song number 14. United Kingdom Blue – I Can
The UK are confident that former boyband Blue will restore the former glory of the country in the contest. Blue may still have a wide fanbase and have had many a hit to their name (much catchier ones at that), this is positively uninspired in comparison with unconvincing vocals freom a clearly struggling Blue. I fear that despite the best intentions from the BBC, many brits are going to end up disappointed this year.
Song number 15. Moldova Zdob si Zdub – So Lucky
One of the quirkier acts of the show – full of energy, the number comes across as vibrant and packs quite a punch, but is spoiled by a messy staging and aggressive vocals. Can't see this doing well at all, although with Eurovision, you never know! 
Song number 16. Germany Lena – Taken By a Stranger
Time for returning champion Lena to take to the stage to defend her title. Germany have by far one of the most contemporary songs this year, and they should be applauded for selecting this dark little number. Although not my favourite, it comes across great on stage, although it will probably not be mainstream enough to appeal to the masses. Will struggle for a top ten position.
Song number 17. Romania Hotel FM – Change
Romania seek to change their fortunes and continue the positive trend started by Paula and Ovi's 3rd place from 2010. A bright tune with a great, positive vibe and a charming stage show with an irresistible chorus. A relaxed and playful performance, which Romania should be very happy with. Deserves a space in the top ten without a doubt.
Song number 18. Austria Nadine Beiler – The Secret is Love
Nadine has given us consistently stunning vocals throughout her time in Düsseldorf and what a return for Austria, giving them their first final placing since 2004. Her vocals can't be faulted although the song itself is a little too saccharine sweet ande Disneyfied for my liking. A good draw however could make this one of this year's dark horses.
Song number 19. Azerbaijan Ell & Nikki – Running Scared
One of the strongest entries this year, the duo gave an average performance, with flat vocals in a number of places. Have heard better from the two. The odd thing about this one is the complete lack of chemistry between both artists. Hoepfully everything will click on stage tonight anf have votes pouring in from left right and centre.
Song number 20. Slovenia Maja Keuc – No One
Maja has also spoilt us these last two weeks with repeatedly stunning vocals and a belter of a tune. It's easy to hear why her voice draws comparisons with Chrsitina Aguilera and paired with a classy tune, this should see Slovenia get a top 10 placing for the first time in many years. Maja gave a gutsy performance, although she sounded as if she was holding back today for the big finale tonight.
Song number 21. Iceland Sjonni´s Friends – Coming Home
Sjonni's Friends were in good shape today, offering yet another strong, playful performance. Undeniably Scandinavian in sound, with fantastic harmonies, I fear that Iceland this year will go unnoticed. I hope I'm wrong, as they have one of the better entries this year.
Song number 22. Spain Lucia Pérez – Que Me Quiten Lo Bailao /They Can't Take The Fun Away From Me
I didn't have much of an opinion of the Spanish entry, I must admit, but after having followed Lucía's rehearsals, I have to say that I've been taken in by her vivacity and bubbly performance. She comes across as extremely charming on stage and Spain's song has a great summery vibe about it which could attract some votes. The choreography however is quite perturbing, doing no favours for the act.
Song number 23. Ukraine Mika Newton – Angel
The Ukraine's offering this year is one of the darker ones with perhaps the most innovative staging with the sand artistry as a backdrop. Mika gave a passionate, emotive performance which may attract a number of votes, but I can't see this making any serious challenge for the top spot. Her final note however sent tingles down my spine.
Song number 24. Serbia Nina – Čaroban
Vivacious Nina gives us a competent 60's pastiche from Serbia which works extremely well on stage. A joyful vibe fills the entire stage during her perfomance and I for one couldn't stop myself from humming along. Although not vocally as strong as previous performances, it still comes across as polished. Expect Serbia to be an outsider this year.
Song number 25. Georgia Eldrine – One More Day
Georgia were one of the surprise qualifiers this year with their brooding, slightly sinister sounding number. This undoubtedly appeals to the younger generation, but is not my cup of tea, as it's just too heavy with vocals that aren't sung but screeched in places. Can't be ruled out as a contender for the top 10 however.
If I am to stick my neck out and predict the top 5, which I normally don't like to do, as anything can happen in this contest of late, I think the top 5 will consist of (in no particular order): France, Russia, Hungary, Azerbaijan and Estonia.