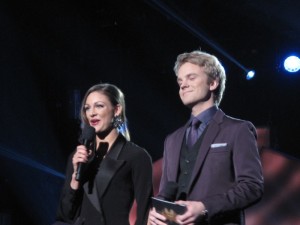 Pulses begin to race as all acts take to the stage in Oslo Spektrum for a final run through their stage shows. Dance moves have to be perfected, lines have to be practiced, nerves to be calmed. Eurovisionary was on hand to watch the preparations, hoping for some indication as to the outcome of tonight's grand final.
W were among the relatively few members of press present in the hall to follow the dress rehearsal of this year's finalists. The atmosphere seemed to be buoyant, with plenty of joking and cameraderie from the hosts. Here are the impressions we were left with after the first run through of the songs in the contention for the title of winner of Melodi Grand Prix 2013.
The stage:
The stage is circular with crowds standing at each side to create atmosphere. Overwhelmingly dark, with blue spotights shining down, on the backdrop, there are a number of smaller LED screens with water/ripple like effects in beige. More lights come into play right before the performances. A myriad of large pulsating blue spots cover the rear wall of the stage, pierced by stark white beams.
The songs:
Song 1: Paid My Way – Vidar Busk (L: Timothy Scott McConnell / M: Vidar Busk)
A competent performance from Busk, who oozes assurance on stage. It's clear that he has done this for a long time. The two backing singers to his right wear outfits similar to retro air stewardesses, as seen in his qualifying heat. Three other women to his left are kitted out in the same, playing saxophones. Jaunty, liberating rock with a twinkle in the eye. Great chemistry between Busk and his dancers/singers. He's wearing the same outfit as in the semi, an electric blue jacket and tons of brylcreem. His vocal performance was steady, confident and what you would expect from an artist of his calibre. The LED screens flash yellow thoughout the act, thee stage a hive of activity. Certainly a lively opener to get things underway this evening, but my gut reaction tells me this won't be posing a real threat.
Song 2: Ulvetuva – Fjellfolk (L & M: Trym Bjønnes)
Nextp is the trio otherwise known as Fjellfolk, with what can almost be termed the obligatory Norwegian folk number. There's something strangely unnerving about this number. An almost ghostly atmosphere, given the subject matter. Lead singer Helga loooking the part in a long, powder brown dress with metallic detail which catches the light nicely. Smoke covers the stage floor, adding to the eerie atmosphere. Helga sings emotively, giving plenty of intense looks into the camera.The whole package of excellent vocals matched with a lush arrangement simply works and comes across as very convincing.
Song 3 : Bombo – Adelén (L & M: Ina Wroldsen / Quiz / Larossi)
The third act out this afternoon was plucky 16 year old Adelén, who really gave it her all. She bounded on stage wearing the outfit last seen when she won her heat last week, consisting of a brown silky hot pant outfit. When hearing the performance this time around, the initial reaction is "she's had work done" – she has definitely put in a lot of practice, as her vocals have noticeably come on in leaps and bounds. Accompanied by five backing dancers – two couples who set off the performance with latino inspired dance routines, the rhythms become even more infectious as Adelén gives a real gutsy, lively performance. Initially written off by many, there was hardly a bum note this afternoon, making the youngster an even more realistic contender for the title tonight. Pyro effects in the form of flames at in front of her help set the stage alight!
Song 4:  Alone – Gromth feat. Emil Solli Tangen (L: Gromth /M: Emil Solli-Tangen / Sven Atle Kopperud) 
From the moment Emil Solli-Tangen stands alone on the catwalk looking up into the electric blue chandelier and hits the notes he's supposed to, it sends shivers down your spine. Dressed up to the nines in tails he leaps over to the stage where he meets his nemesis, the heavy metal group Gromth. A powerful performance visually, marred by the what's best described as growling of the lead singer. this number comes across as messy, to say the least – it has all the potentially right ingredients in place, but it just doesn't gel, sounding as if Emil and Gromth are trying to outdo one another in the vocal stakes. A stage show that will no doubt induce a racing pulse for some and a massive adrenalin kick, it might just capture the many "protest votes" out there. Topped off with numerous pyro effects, this just comes across as trying to be overly dramatic and ending up terribly pompous. 
Song 5 : Awake – Gaute Ormåsen (L : Gaute Ormåsen / Jesper Borgen / M: Fredrik Borgen)
Gaute Ormåsen is a competent artist, who really impressed this afternoon with his vocal finesse and skill. He sang like a dream, with a falsetto that would make Morten Harket nervous. He is on stage in a dark blue suit coupled with black shirt and is in many respects an anti performer, standing still with the microphone stand, eyes closed. He seemed extremely comfortable on stage. Three dancers were behind him, each moving around within what looked like white door frames, rotating around the stage. Awake is breezy, slickly arranged with obvious radio appeal, but will it be enough to convince the viewers to vote?
Song 6 : Sweet & Heavy– Lucky Lips (L & M: Malin Pettersen)
This act to receive this year's wildcard, Lucky Lips, are next to take to the stage. Lead singer Malin is wearing a white dress with light green lining, which sets off her bright pink hair a treat. Her performance is yet another that has improved dramatically since taking part in their heat, with many of the creases now ironedout. many will no doubt fall for its winsome charm. Malin sang extremely well, but the stage show itself, despite the dainty little dance she does around her band colleagues, conveys little compared to other acts on show tonight and just leaves Sweet & Heavy a little too pale and anonymous to make any lasting impression on viewers tonight.
Song 7: Underground  – Datarock (L & M: Fredrik Saroea / Pål Myran-Håland)
The seventh act on stage tonight are the group Datarock, sporting their trademark red tracksuits. They are accompanied by backing female singers/dancers dressed in black, sporting small black eye masks. The stage bursts into life and the gang really do the business in spreading their own brand of fun and good times. A teasing disco sound works well on stage, but the act comes across as somewhat cluttered, with huge light/bulb installations behind the group, massive loudspeakers on the one side of the stage and a drumkit on the other. Lead singer Fredrik makes plenty of eye contactwith the camera, the singers/dancers move around the stage playfully and interact with the other band members, with promises of good times which carried well in the hall.
Song 8: I'm With You – Annsofi (L & M: Alexander Rybak)
One of the ballads on offer tonight is up next, in the capable hands of young artist Annsofi. She stands alone on stage, with the three white frames back again behind her, with illiminated baubles hanging as decoration. Smoke is once again used to cover the floor, lending an almost dream like feeling to the stage. Annsofi is wearing the same outfit as in her heat, a pale blue knee length dress. The song comes across very well, uncomplicated with an emotive vocal performance with plenty of dramatic, sweeping arm movements. She clearly appears to be enjoying herself, a little too much in a few places with notes slipping, but generally not too much of a distraction and should not affect the appeal too much. 
Song 9: Feed You My Love– Margaret Berger (L & M: Karin Park / Robin Lynch / Niklas Olovson)
The big favourite is up next, with Margaret Berger tottering on stage in her by now trademark white straightjacket dress, topped off by her long platinum locks worn in a plait. Moody and smouldering are the key words here, as Miss Berger exudes an intense stage presence that you'd normally associate with much more established acts. A stripped, chilled arrangment that carries extremely well, proving that less is more. She performed with class, elegance and plenty of drama, with long, longering looks into the camera and singing with such force and power that gave the only goosebump moment in this afternoon's rehearsals.
Song 10 : I Love You Te Quiero – Sirkus Eliassen (L : Magnus Eliassen / Erik Eliassen / M: Magnus Eliassen)
And so it was time for one of the hotly tipped acts to round off this afternoon's rehearsal as the two brothers bound onto the stage, smiling wildly, emanating real performance pleasure. This is a difficut one to comment on. It is a novelty act with four dancing bunnies who dance frantically and try to keep up with the boundless energyof the Eriksen brothers. It is quite suggestive in places, the spoken parts if kept in Norwegian may fall flat on their face in Malmö, but the chorus is lethally infectious and joyfull. Hefty pyro effects in the form of fireworks projected from small cannons bring the act to a close with an energetic bang. Very tongue in cheek, this will definitely get its share of votes.
The show:
The opening nuber involes 10 dancers, men and women, the ladies wearing metallic pants and white blouses paired with black jackets, the men in black tuxedos. A vibrant opening, with the dancers coming alive, throwing themselves around the stage with great gusto. The number is ended by a crack of pyro effects in the national colours, red, white and blue as hosts Jenny Skavlan and Erik Solbakken enter the stage wearing their outfits for the evening. Erik is wearing a mauve suit, Jenny in a long, black dress, showing off her figure and wearing her auburn hair down.
Loreen takes to the stage as the first of two interval acts, dressed in a baggy black outfit coupled with her by now familiar fringe. She emerges from under the stage atop a kind of tribal throne, joining a group of dancers also dressed in similar colours. She gives a breathtaking performance of her hit My Heart is Refusing Me, packed with dazzling choreography, and vocals that confirmed just why she was a worthy winner of last year's Eurovision.
Tooji is the second of the interval acts on stage in an outfir similarly streetwise to what he was wearing in Baku. His routine starts off very mysteriously, with what resembles church organs, Stay beginning much slower than we know it. The organ sound makes it almost sacral and could quite possibly have done much, much better in Azerbaijan. Tooji is backed by a choir of about ten singers, kitted out in long choral gowns. Stay then progresses into the more familiar sound, with thumping beats but this time with a heavy gospel feel to the chorus.