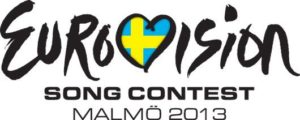 Throughout much of the contest's history, the opening sequence of each entry has been portrayed with a postcard. Whereas the trend used to be to use postcardsto show off the country's sights and nature for what it was worth, SVT have made the postcards more personal, following each artist at home. 
In a stark contrast to last year's production where Azeri Ictimai TV seized the opportunity to show off the countryside and scenery of Azerbaijan, host organiser SVT go in the opposite direction and instead give the postcards a personal touch, allowing us to follow each artist around at home, taking part in their daily life and thus getting to know the artists a little better. Here's a brief description of what the postcard of each country consists of.
01. Austria: Natália Kelly – Shine
The Austrian postcard opens with views of an urban Austria, before showing Natália practice singing in some grandiose room before she takes us on a bike ride.We later catch up withher while she is snapping pics on her mobile phone while attending a concert and we leave Natáliadoing some nifty moves at an aerobics/dance class.
02. Estonia: Birgit – Et Uus Saaks Alguse
The Estonian postcard begins with views of an Estonian winter,  before we see shots of a newly woken Birgit open the curtains and look out of the window. We later see her playing the piano, practicing her vocal. She takes us on a tour down a busy street of Tallinn, and also for a dip in the swimming pool. We get to accompany her backstagewhile she is preparing for a gig.
03. Slovenia: Hannah – Straight Into Love
Hannah from Slovenia likes to start the day with a cup of tea. We see her preparing for a day out and about, putting lipstick on before she ventures out shopping. We follow Hannah while she goes shopping, meets friends, dances the night away before taking a cab home. 
04. Croatia: Klapa s mora – Mižerja
The postcard for Croatia begins with across an old town landscape somewhere in Croatia. We later see the members of Klapa s Mora busy doing things such as ridig a bike along the shoreline, taking a tram ride, sailing in a rowing boat on a lake before they all meet up for dinner in a setting with a cosy, convivial atmosphere.
05. Denmark: Emmelie de Forest – Only Teardrops
Young Emmelie takes us around her Copenhagen for the Danish postcard. We see her take a lift up this huge glass building, with sweeping vistas of her home town. We see her go with friends through a botanical garden before she ends up in some museum and strikes the same pose as a statue behind her.
06. Russia: Dina Garipova – What If
Dina accompanies us around Moscow. We see her take an early morning stroll,  before we are able to eavesdrop in on a group of musicians practicing.  We continue with more cultural pursuit; visiting an art gallery, more shots of Dina out walking with views of Red Square and the Kremlin in the background before she finishes her postcard by taking us to a ballet dance studio.
07. Ukraine: Zlata Ognevich – Gravity
Zlata's postcardopens with the butterfly resting on a restaurant table, before we see Zlata taking part in a photo shoot. We're treated to various views of Kiev before we see her keeping in shape at a dance workout. She takes to meet fans where she does autograph signings and has various poses with Kiev in the background.
08. The Netherlands: Anouk – Birds
Anouk's postcard shows canal shots of Amsterdam before we catch up with her working out on a rooftop overlooking Amsterdam. She is training with a boxing partner before she takes us on a jogging trip through the bustling streets of her hometown. We also get to see Anouk hard at work in the recording studio.
09. Montenegro: Who See – Igranka
The Montenegrin postcard opens with shots from inside a recording studio. We see one of the members of Who See waking up before we see a newspaper clip about their representing Montenegro stuck to a fridge door. We see the stress of daily life, being picked up from the house before we're taken to a football pitch. We see fishermen at work on a lake before the postcard is rounded off with a game of basketball
10. Lithuania: Andrius Pojavis – Something
Andrius' postcard starts with a tram driving down a street in Vilnius. We make our way to the airport, take off and a short car ride later it looks as if we are out in the countryside, where Andrius is visiting relatives. They catch up, leaf through old baby pictures of him. He potters around garden, enjoys the nature around him before we see him jamming in a music studio.
11. Belarus: Alyona Lanskaya – Solayoh
The Belarussian postcard sees us travel around Minsk, taking in grandiose buildings around the city in beautiful winter light. We get to meet Alyona at work dancing and singing, but we also see her relaxing with a visit to a restaurant with a little girl before a trip to the circus is in order, with some playful monkeys coming into view.
12. Moldova: Aliona Moon – O Mie
Aliona treats us to spectacular mountain scenery with shots on a hilltop with a monastery in the background. She then takes a trip to stables or a horse sanctuary before we end the postcard standing on a town square, presumably Chisinau, with people lighting hundreds of helium lanterns and sending them into the night sky.
13. Ireland: Ryan Dolan – Only Love Survives
The Irish postcard sees Ryan wandering around his hometown, doing everyday chores. He visits the butcher's to buy meat, before taking a trip in his car to what looks like a huge family gathering. They eat and have a good time before he chases kids around the house waving Irish flags. They end the postcard doing what the Irish do best – eating, drinking and relaxing while watching some Irish dancing.
14. Cyprus: Despina Olympiou – An Me Thimasai
Despina takes us to the shoreline; we see shots of her walking along a pier, before we are transported inti back streets somewhere. We accompany her on a trip to see an elderly lady, where we see them cooking together, making pasta. Later in the postcard, more shots of the Cypriotic landscape, flying kites on the beach while the sun goes down. 
15. Belgium: Roberto Bellarosa – Love Kills
Young Roberto takes us on a trip around his neck of the woods. The postcard opens with shots of sanddunes and a lighthouse in the background. We then see him walking down a shopping street and catching up with friends. He stands alone on an empty stage in a rather grand theatre before meeting young fans who are clearly excited.
16. Serbia: Moje 3 – Ljubav Je Svuda
The Serbian postcard opens with make up. Lots of it. We see the girls of Moje 3 having fun trying on lots of different outfits at what looks like a fashion shoot. Once finished, we move on to a rooftop, where they have fun with a shopping trolley and a fire extinguisher. We follow them down to the river, where the postcard ends with nighttime shots of the girls enjoying themselves.