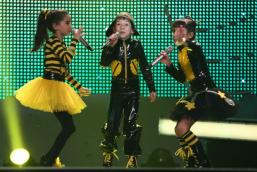 Under the theme Fun In The Sun the summing bees from Georgia won tonight's 2008 Junior Eurovision Song Contest. Quite refreshingly then song as well as performance from winning the country was one of the songs that were kept at a children level.
The 15 participating countries varied in style and in performances which made the show quite interesting to watch.
1. Romania: She has quite a good voice. The song starts out as a ballad, but later in it some modern disco tunes are added.
2. Armenia: A powerful ballad with a touch of professional orchestrating. The performance is nothing special and the question is will it stand out?
3. Belarus: A classic pop song with rock elements. It reminds of almost any random Eurovision Song Contest entry from Finland.
4. Russia: Dressed all in white this boy stands out like a younger version of Dima Bilan. It is a ballad with a classic chorus and appears VERY professional on stage.
5. Greece: These 3 girls reminds us that it is indeed just a children show. It is a ballad with pop elements.
6. Georgia: The easiest and at the same time the most difficult lyrics. All the do is run around summing like a bee! This is once again what the show is all about – children having fun.
7. Belgium: This 15 year old boy is the oldest in the contest. Even if the song is called Shut Up he is very good looking dressed in a classic white suit sitting at his piano. It makes one think about the Norwegian entry for the Eurovision Song Contest in 2003.
8. Bulgaria: A pop song performed by a group of girls all dresses in red leggings and a black leather blouse! The song might not stand out, but the outfit certainly do!
9. Serbia: This girl performing a op/rock song has a good voice and a pretty smile. The song has a good choreography which makes it come across as a very professional act.
10. Malta: A swing rock n roll song which uses some interesting black/white clips. It is quite a good performance that manage to make a professional act without raising it to an adult level.
11. The Netherlands: A pop song by a pretty girl. It is nice enough, but it might suffer the destiny Dutch entries have so often done at the Eurovision Song Contest – that it is simply forgotten even before it is over. It doesn't quite stand out.
12. Ukraine: A girl in sailor clothes singing a pop song with a few hints to the Wild Dances music. All through the song you keep wondering where you have heard the song before simply because it sounds so familiar.
13. Lithuania: A nice pop song performed by the girl next door. She is the good girl who goes to church and Sunday school – and on stage she is wearing her outfit for those events! Most won't have anything against this song, but will it stand out?
14. FYR Macedonia: A ballad that sounds like what it is – from the Balkan area. This boy is quite cute and his charm might gets points from the girls, but will it be enough to win?    
15. Cyprus: Six girls dressed in bright colours. A pop/rock song with a few twists curls added. Barbie might be a children toy, but do they have to wear her outfit as well? A good song with a good performance, but I would not allow my 13 year daughter to wear those dresses!
Dima Bilan performs as a guest star – his shirt has been opened a bit more compared to the Eurovision Song Contest. Why is he even wearing it? Probably because it is after all a children show!
Time for the voting… who will win?
The scoreboard looks really good with a balloon dropping the points. 1-5 is fast put on the table and only the six and up are announced by the spokes person from that particular country 
Georgia won with 154 points, next year's host Ukraine came second with 135 points. In third position came Lithuania with 103 points. Malta came fourth with 100 points, FYR Macedonia fifth with 93 points and two times Junior Eurovision Song Contest winner Belarus came sixth with 86 points. For the full scoreboard you can find it here via the official Junior Eurovision Song Contest site.
Time will tell if this Georgian victory will make them think twice about participating in the 2009 Eurovision Song Contest to be held in Moscow, a contest they have said that they don't want to participate in due to the situation between Georgia and Russia. 
Links