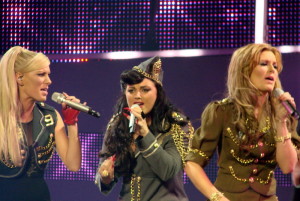 The successful Danish girl trio Sukkerchok confirmed in a TV program Tuesday evening that they have been reduced to a duo after Inez decided to try a solo career. The remaining two girls are so far planning to continue – once they have found another girl to join them.
Sukkerchok participated in the Dansk Melodi Grand Prix, the Danish selection for the Eurovision Song Contest in both 2009 and 2010. Last year they ended up on a tied third position with the song Det Det which afterwards featured great success on the charts. This year they failed to reach the super final that consists of the four songs with the most votes and as such got no placement for their song Kæmper For Kærlighed.
 
A couple of days ago one of the three girls, Inez, sent out a press release stating that she was leaving the trio in order to pursue a solo career. As nothing about what the future would be for Sukkerchok was mentioned the Medias were waiting for more news to follow. Last night they two remaining girls, Malene and Kat joined the comedy talk show Aloha on TV2 Zulu for a short talk about what would happen now. They both mentioned that they would like to continue with Sukkerchok, but not as a duo. They will now be trying to get a third girl to join them, but they added that they are completely blank as to who that should be: "Everyone interested can apply to us; we are not ruling anyone out".
Below you can watch Sukkerchok's performances in the Dansk Melodi Grand Prix from 2009 and 2010. For those who should be in doubt about who it is who left the others then Inez is the dark haired girl.