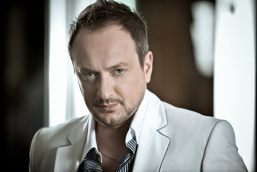 Gjoko Taneski gave an outstanding vocal performance of Jas Ja Imam Silata at the 2nd rehearsal for FYR Macedonia.
Gjoko is a popular and established singer in FYR Macedonia and the Balkan countries.  This great experience was brought to the stage where he gave an outstanding performance. 
Gjoko wearing black was accompanied on stage by 3 girl dancers.  The girls were wearing white cloaks and then removed them to show their skimpy black outfits.  A male rapper joins the stage and is followed by male guitarist for the instrumental break.
An overall great performance from FYR Macedonia