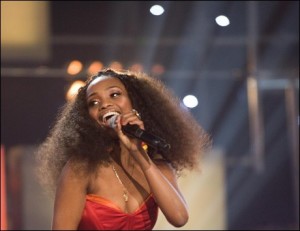 The dust has barely settled after Saturday's heat of Melodi Grand Prix from Skien, and the new week sees winner Stella Mwangi soar to the top of the Norwegian iTunes chart. Her song Haba Haba first entered the charts at #80, then leapfrogging up the chart to #4 before capturing the top spot.
The meteroic rise happened within an hour after her performance on stage in Skien; could this be an omen of things to come? Haba Haba is without doubt the song out of this year's MGP entries that has made the biggest impact so far, and if proving so popular already perhaps this is a good indicator as to how the public will vote in the final on Saturday the 12th. February.
Stella was woken yesterday morning with the joyful news that her song had then made the final jump to the top spot,which she describes as "I'm lost for words, everything feels like a dream" to tabloid VG. At the moment, she's even outselling the juggernaut that is Britney's comeback single, which is quite a feat. The young Kenyan-Norwegian singer is however taking the success of her single firmly in her stride. She goes on to tell VG that "I don't care how long I manage to stay at number 1, I'm just thankful for what's happening right now, and that's exactly what I'm singing about in my song".
On her chances of going all the way in the grand final, Stella says that there is strong opposition to beat before she can take to the stage in Düsseldorf: "It's a tough competition. I haven't a clue what will happen in Oslo Spektrum, all I am in control of, is what happens on stage. Whatever happens after that is out of my hands". The aspiring starlet is also extremely humbled by the whole experience, telling of how the reception and feedback from the Norwegian public has given her a lump in her throat. "It's great to get this kind of treatment. I want people to smile when they hear my song".
The Black Sheeps have also made their entrance onto the download charts, with Dance Tonight coming in at #11. At the same time, media are scoffing that the concept of Melodi Grand Prix is losing interest with the public, claiming that the show's viewing figures are declining siginficantly. All of the buyers who brought Stella to the #1 spot on the chart would beg to differ.