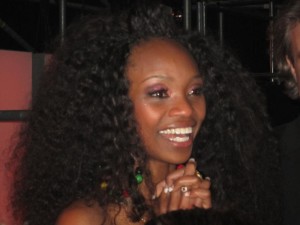 Following Stella Mwangi's impressive victory on Saturday, reactions to her perfomance in the press have been mixed, to put it mildly. According to many her vocal prestation left a lot to be desired, whereas others are eager to point out that African rhythms have no place in representing Norway at the Eurovision Song Contest.
Even though she managed to emulate "the Alexander Rybak effect" in romping to victory with 120,000 votes more than runners-up The Blacksheeps, she still hasn't managed to silence her critics. In a candid interview with Norwegian tabloid Dagbladet, Stella shrugs off the criticism of bum notes, answering that "I'm not at all upset. I've never claimed I can sing. I've always been tone deaf, so the criticism doesn't get to me". The Norwegian-Kenyan singer has apparently already hatched a masterplan for success in Düsseldorf, including vocal coaching leading up to her departure for Germany. "I'm going for gold, I'm going to do a Madcon and get the whole of Europe dancing!" she proclaims. The man behind Madcon's Glow routine has already been roped in to project Haba Haba, to devise a stage show that will be bigger and better than the one in Saturday's Melodi Grand Prix final. Details of the show are being kept strictly under wraps, although Stella does reveal that it will be colourful and involve a new outfit.
Following her victory, advice has been coming thick and fast from colleagues who have already represented Norway at the contest. Hanne Krogh tells Stella not to lose the joy and energy she emits when on stage, while Didrik Solli-Tangen tells her just to go with the flow, enjoy the whole experience and to cherish the memories. Elisabeth Andreassen on the other hand, offers slightly more concerned advice, saying that Stella needs to prepare herself for the pressure and commotion that awaits her, urging her not to focus on the wrong things and to find herself a good team of experienced people who can support her. Bettan also adds that Stella can ring her anytime, if she feels the need for help.
 
Stella goes on to tell Dagbladet that she doesn't think it's impossible for Norway to win the whole contest a mere two years after their last victory, saying that "Rybak brought the fiddle to the contest, I'm bringing the rhythm. I'm not out to fill his shoes, I'm comfortable in my own." Prior to the final, she was described as a breath of fresh air in the media, but only 2 years ago her attempt at the launch of a solo career with the release of her debut album Living For Music was slaughtered by critics, with her manager Vicente Modahl going so far as to say that some of the criticism was bordering on racism.
At the moment Stella can do no wrong, according to the majority of Norwegians, with Haba Haba topping both the national charts and the iTunes download chart. Her smartest move however is perhaps to enjoy herself and make the most of the experience, using the exposure to benefit her career. She would be wise to take the justified criticism on board but at the same time manage to put the unfair criticism behind her.
Links