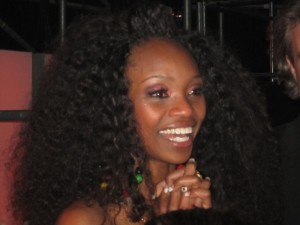 Stella Mwangi has had a rather hectic time of it lately, busy with filming the music video to her hit Haba Haba. What otherwise could have turned into rather a sombre affair on a cold and still winterlike afternoon in Oslo, turned out to be the complete opposite, with hundreds of fans turning up to help with the recording.
The first sequence of the film was shot in the Oslo neighbourhood of Grünerløkka, a trendy area filled with cafés and bars. Once completed, the entourage made their way out to Huk, a beach area in west Oslo, where Stella paraded around in what only can be described as an hommage to her kenyan roots – an ochre coloured tutu creation with tiger patterned belt. Editing of the video is due to be completed within a week, just in time to be despatched to various music channels throughout Europe. Frederic Esnault has had the task of producing the video, something he's helped Stella with twice before.
In the meantime, Stella has been on vacation to Kenya to recharge her batteries and share in the excitement with her family. While there she was invited to Capital Talk, Kenya's answer to Larry King, and Kenyans were apparently ecstatic that one of their own would be taking to the stage in the Eurovision Song Contest. NRK followed the star on her trip, but it is yet to be confirmed whether or not a TV special is to be made. Stella has also been given her own personal trainer in the run up to Düsseldorf, to ensure that she is in top shape for the gruelling schedule that lies ahead 
Another detail surrounding her stage show has been leaked, namely that they plan to use confetti during her semi final performance. This will come towards the end of the number, and according to Norwegian tabloid VG, NRK are having to fork out the princely sum of NOK 100,000 (EUR 13,000) to the EBU to use this effect on stage owing to the costs of cleaning the stage afterwards.