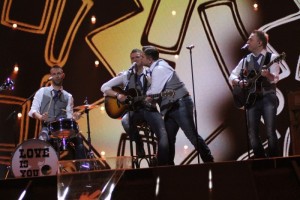 Day six of rehearsals got off to a jolly start, with Sjonni's Friends for Iceland, with the sextet in much better shape than in their first rehearsal.
Things are really coming together for the Icelandic entrants this year, Sjonni's Friends. They started the day with a breezy performance. They have a fantastic stage presence, managing to emit humour and joy and to recreate the genuine enjoyment from their official video. They have chosen to keep the playful peck on the cheek in the act, which is a nice touch.
They were wearing what looks  like will be their stage costumes today, consisting of blue jeans, paired with white shirts, grey waistcoats and blue ties.
The backdrop remains unchanged, with a black background and orange/yellow cogs. The bottom of the stage is lit up in a warm orange glow, enhancing the warm feeling the number gives. In between the 4 run throughs, the pianist entertained with tuning the piano and tinkling the ivories, proving that the group do actually play their instruments on stage, contrary to many others.
Their vocal harmonies are great to listen to, considerably better than their first rehearsals, although it has to be said that some were clearly struggling towards the end with some of the higher notes. The group look fabulous on stage, relaxed and in high spirits and it's plain to see that they are clearly enjoying themselves, as they whooped and cheered from the stage before the last run through.
In my view
A good, solid rehearsal which the band should be happy with – it's hard to say what the outcome will be on tuesday night; hopefully their jazz tinged rag time effort should be enough to see them through to the final.

The opinion expressed in "In my view" are those of the author and are not necessarily the one of EuroVisionary.com.