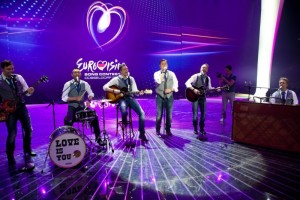 Could Sjonni's Friends be the first Icelandic act to come home with a Eurovision Victory under their belts? The story behind their effort this year is certainly emotive enough, but the band also have ample talent to draw upon.
The main circular stage is bathed in a warm yellow glow with huge green cocentric patterns projected onto the backdrop which revolve and change colour from green to ochre. There are some great camera shots, making the band come across as quite playful, despite the fact that they're all standing in line. One of the members even gave his colleague a peck on the cheek! Only one of the group is not using an instrument, with the piano and drum kit looking great on stage.
All members of Sjonni's Friends were identically dressed, sporting jeans, white shirts, light blue waistcoats and ties in a darker shade of blue.
Despite the poignant nature of the song, all 6 members of the group appear to be genuinely enjoying themselves on stage, thoroughly relaxed. Although the greater part of the song is vocally sound, there are still places where the group clearly struggle – hopefully their voices will warm up completely in time for rehearsal number two. The jazz elements of the song come across really well in the hall, however at times all 6 voices singing simultaneously as an echo resounds throughout the arena can at times be quite overpowering.
In my view
Although there are certain parts of the song that are still in definite need for improvment, all 6 members of the band have such performing experience that it shouldn't require anything more than some slight tweaks here and there and I have every confidence that they'll manage this in time before the first semi final.

The opinion expressed in "In my view" are those of the author and are not necessarily the one of EuroVisionary.com.